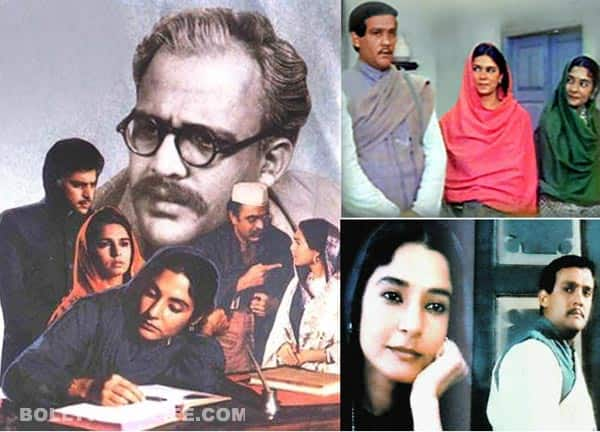 The series on the Indian Partition that starred Alok Nath, Neena Gupta, Kiran Joneja and others recently made a comeback on Doordarshan after 27 years
When it was first aired in 1986, Buniyaad became one of the most popular television series ever seen in India. Its success is remarkable particularly because it was launched at a time when the Indian audiences had limited exposure to television, and had very few locally made serials to set the benchmark. The show starred now-popular names such as Alok Nath, Anita Kanwar, Kiran Joneja, Asha Sachdev, Dalip Tahil, Kanwaljit Singh, Krutika Desai and Neena Gupta; these actors carved a niche for themselves and left an indelible mark on audience memory.
Actor Alok Nath, who essayed the lead role of Master Haveliram is elated at the re-run of the popular series. He says, "It's like relishing vintage wine." Kiran Joneja, who played Master Haveliram's sister Veeravali, tweeted last month saying, "SO EXCITED, BUNIYAAD IS GOING TO BE TELECAST ONCE AGAIN ON DOORDARSHAN EVERY THURSDAY AND FRIDAY STARTING ON THE 26th OF THIS MONTH."
Director Ramesh Sippy, also Joneja's husband, said, "Even now, talk about the 1947 Partition always keeps coming up. I thought this is a good way to remind people of all that had happened. How our people have lived and worked together for this day." He added, "It's a classic and therefore there's a recall value among people who watched it. I am hoping this time younger people will watch it too." Talking about the generation that has never heard of this show and has only textbook notions of what the division of India and the fight for Independence was all about Nath said, "Though the youth watching Doordarshan remains a question due to the availability of so many other channels, the serial would be surely be accessible to a major part of the population, since Doordarshan has better reach geographically."
Talking about the serial being a classic Neena Gupta, who played Rajjo in the popular saga, said, "It's a classic story. The serial is ever green and will always remain so, due to the subject and the content."
Times have indeed changed drastically since Partition. Relationships have evolved and so have value systems; television has developed in terms of content and the choices a viewer is given. Yet Nath is thrilled and optimistic; he feels that Buniyaad explores a different genre of television entertainment and is here to stay.
With so much excitement among the people originally involved and a host of viewers who saw the serial in its first run so many years ago, we hope that the younger lot also take advantage of the re-run. Buniyaad is being aired on Doordarshan every Thursday and Friday at 8:30 pm. Are you watching it?