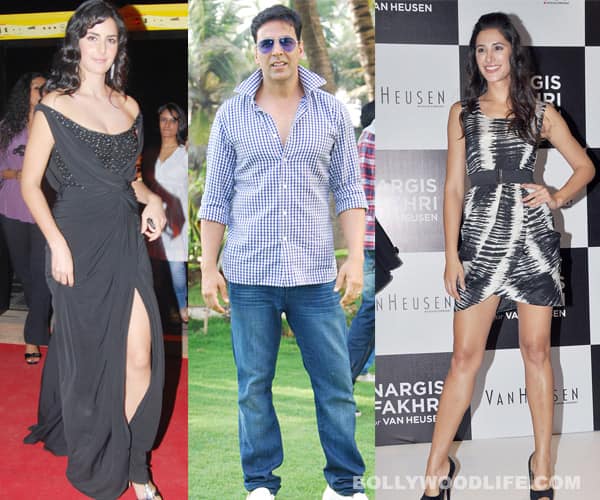 The Rowdy Rathore actor has offered the Rockstar gal a three-film deal
Ranbir Kapoor's Rockstar may not have brought Nargis Fakhri stardom, but Akshay Kumar just might be able to do it. He has signed the gal for a three-film deal that could very well propel Nargis' career sky high. Why do we say so? 'Cause we've already seen him do something similar for Katrina Kaif. Kat is ruling Bollywood right now and a huge amount of the credit goes to Akshay Kumar. The Khiladi backed Kat at a time when her poor command over Hindi and her lack of dancing skills made her foothold in tinseltown very shaky. It was Akshay who worked with her in films such as Namastey London, Singh Is Kinng and De Dana Dan and helped her cement her position in the industry. Akshay even played a part in Sheila ki jawaani's success.
Nargis Fakhri is in a similar position now. She came under fire for her accent and poor diction in Rockstar. Like Kat, she too grew up outside India. Kat lived much of her pre-Bollywood life in the UK while Nargis was a model in New York City. There have been several doubts as to whether Nargis has what it takes to make it big in Bollywood. This three-film deal with Akshay is the best way for her to prove that she has arrived. The heroines of Akshay's films usually don't have much to do, but we fervently hope that the next time we see Nargis on screen, she will at least emote. The thought of sitting through three films where she'll simply repeat her sleepwalker's act from Rockstar is just unbearable. Especially since we won't have a dishy Ranbir to distract us. All we will have is just another ageing hero.