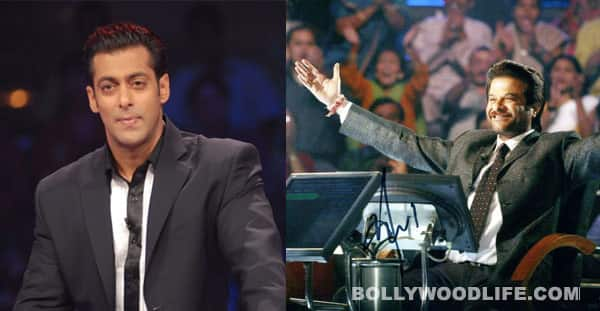 The Indian version of the hit TV series started a few days ago – everyone has applauded the Slumdog Millionaire star for taking up the challenge and delivering. But to replace Salman is a far more difficult task…
Would Anil Kapoor be a better choice than Dabangg Salman Khan as the host of the popular telly show Dus Ka Dum? The Welcome actor said recently that he was offered the show before Sallu, but felt that Salman was the best choice as host of the show. We agree with Mr India on that one – that DKD wouldn't be the same if the Wanted star was not hosting the show. Salman danced with his guests, had a huge fan following and his eternal bachelor status only added extra masala to the show. Everybody, from married women, men and young boys to dabbawalas went crazy about him on the show. And of course, the star was always ready to dole out an ample doze of controversy, talking – in passing of course – about his ex-girlfriend Aishwarya Rai (now Bachchan) or arch rival Shahrukh Khan. He openly discussed his friends, enemies and marriage on the show, which made us wonder whether it was all done to raise TRPs, earn his substantial paycheque or just SK being his entertaining best.
Anil could never have matched that performance, but he could probably have brought his jhakaas factor into the popular game show to wow viewers. And what else could we have expected from the 24 star? Here's our list….
1. STYLE: Salman wore his Being Human collection on the show. We're sure that this is the department where Anil could give Sallu tough competition. With fashion diva daughter Sonam taking care of his style statement, Anil would definitely look dapper and debonair as the host of the show.
2. CHARM: The Ready star has his magic and nobody can take that away from him, but AK too can make women go weak in the knee with his smile, charisma and chivalry. And considering the fact that he can give anyone half his age a run for their money, he definitely would have won over the audience too.
3. HUMOUR: Only Majnoo bhai could manage to call Aishwarya Rai Bachchan a chaiwali – remember how on an awards show Mr India got everyone including Ash laughing at his comment? We're sure Sallu couldn't pull that off with the ease that Anil did. So there would be lots of giggles if Anil played host.
4. FRIENDLY EQUATIONS: Salman Khan is known to be a good friend and as well known for his open attacks on his enemies. Anil Kapoor, on the other hand, shares a far more balanced rapport with almost all the B-towners. So the much missed Shahrukh Khan, Vivek Oberoi and Bachchan parivaar would be assured guests, hai na?