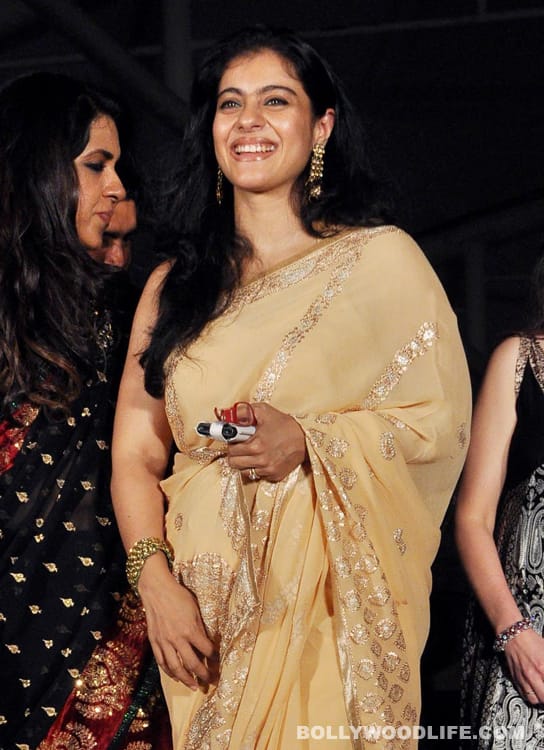 The We Are Family actor turned down an offer to host a TV chat show despite being offered a lot of money. Fans might be disappointed but we think she made the right decision
We hear Kajol was offered a chance to host a celebrity chat show and she turned it down. Apparently she was offered a lot of money, but the We Are Family actor preferred tending to her kids – son Yug and daughter Nysa – than face the camera. In the past she has been a judge of Rock n Roll Family, a dance reality show, along with hubby Ajay Devgn and mother Tanuja. However, it isn't a surprise that she refused the show as Kajol has always preferred motherhood over work. Even her filmmaker friends Karan Johar and Aditya Chopra haven't always been lucky to get their talented actor-friend to say 'yes' to a film. Anyway, while we admire her decision, we think she doesn't possess the qualities of a good chat show host. We have our reasons to support our judgment.
* Insiders who know Kajol say that she may have lots of friends in tinselville, but she isn't a social butterfly like her friend Karan who can make interesting conversation even with a lamp post.
* The actor is known to be moody which doesn't make be a good quality in a host, especially one where you have to get people to talk.
* While it is always a delight to watch Kajol giggle and gossip with her friends (on Karan Johar's chat show), the lady isn't a patient listener.
* And last but not the least she doesn't mince words, and is known to call a fat person fat to their face!
So, don't you agree she better stick to the silver screen and spare her celebrity friends? Tell us!