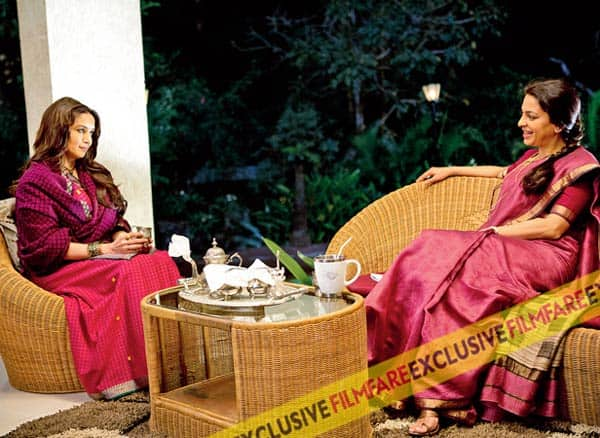 skip advertisement
Filmfare has come up with some exclusive stills from Gulaab Gang, and it seems that the dhak-dhak girl and the Tu hai meri Kiran starlet are still hell bent on being rivals… Read on to know more…
Before you jump to any conclusions, we are talking about their onscreen characters in Gulaab Gang. Madhuri Dixit Nene and Juhi Chawla are sharing screen space for the first time in the upcoming film and the exclusive Filmfare photos show, that they must have had a ball while shooting together after burying the hatchet. But according to the story plot, they still are pitted against each other.
How, you ask? Well, they have a difference of ideologies and they would fight it out through politics. In the midst of north India, Rajjo (Madhuri Dixit Nene) sets up an ashram for the protection of women, where they are taught to fend for themselves by grinding spices, weaving baskets and learning self defense. Rajjo has tied up with a political party which is headed by Sumitra Devi (Juhi Chawla), and it seems that her political ambitions have overcome her empathy towards the oppressed. Rajjo is mighty pissed with her evil machinations and vows to battle this devil at the ballot box. The group of women, also called Pink Panthers, includes Rani Patel, Tannishtha Chatterjee, Vinitha Menon, Lata Singh, Divya Jagdale and Priyanka Bose.
We think that the group looks good together and if they are fighting for a noble cause, then there is nothing wrong in showing some onscreen enmity. Kudos to Shoumik Sen, the director, for bringing the past jealousy and turning it into characters of the script.
This would surely be a must watch. Check out the photos and let us know whether you are dying to see the rivalry on screen BollywoodLifers.