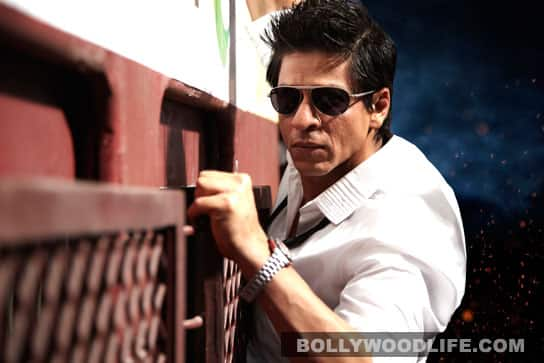 We've seen Christian Bale, Brandon Routh, Andrew Garfield and even Hrithik Roshan play the sturdy, sexy and absolutely drop dead gorgeous superheroes. And then Shahrukh Khan launches his super-inspired RA.One
There is no doubt that he is Bollywood's biggest superstar, but carrying off the persona of a superhero needs a tad bit more than stardom and money. Here are the many reasons why we think SRK might not be able to fit the superhero part:
Shahrukh claims that he is doing this film for his son but his son himself feels that SRK is not cool enough to be a superhero! The lad prefers SRK's good friend Hrithik Roshan instead. We are quite sure that Aryan is looking forward to Krissh 2 a lot more than his daddy's RA.One! Since Hrithik has already established himself as the Indian superhero, Shahrukh would have to double his efforts to get noticed. Well we are quite touched with SRK's special gift to his son and hope that it lives up to his expectations.
Shahrukh Khan is probably the most damaged (read injured) actor in Bollywood at present. Sure at 46, the actor is still at the peak of his career, well if Amitabh can at 69 then Shahrukh definitely can. But the actor has been going through several treatments for innumerable injuries and for some rather dislocated and broken parts of his body. His previous stunts and action sequences have taken a toll on him and he has had to take several breaks to deal with broken ribs, knees, elbow, ankle and shoulder.
No one denies the efforts Shahrukh has taken for his pet project but does everything have to be inspired from Hollywood? His costume minus the blue addition looks inspired from Iron Man. He flies like Krrish and Superman and probably uses Batman's batmobile. What we really want to know is: What is it that G.One (SRK's character in Ra.One) can do, that other superheroes can't? We'd ideally like to come out of the theatre with our minds blown away with his unique superpowers instead of constantly comparing him with other superheroes, don't we?
Shahrukh started the trend of six-pack abs with Om Shanti Om (albeit with some lighting effects!). And he continues to cash in on the phenomena with RA.One. Methinks it's quite obvious that SRK has taken the help of SFX this time around rather than waste all those extra hours in the gym in a bid to attain a toned body.
Honestly, yours truly is waiting with bated breath to see if SRK manages to live up to all the hype he's creating for his ambitious sci-fi flick. And let's hope that King Khan is able to set a new superhero benchmark!