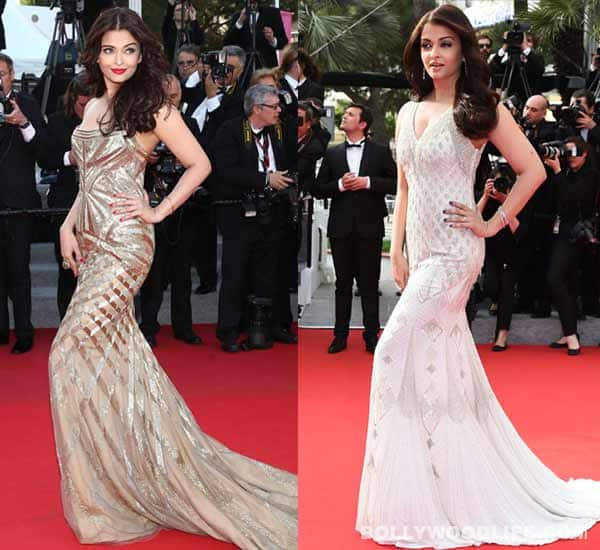 skip advertisement
Aishwarya Rai Cannes 2014
The former Miss World dazzled on the red carpet at Cannes this year, and how
When Aishwarya Rai Bachchan walked down the red carpet at Cannes 2014, all eyes were only on her. She made two appearances at Cannes International Film Festival 2014 and both the times, she donned Roberto Cavalli outfits. For her first appearance on the red carpet, Aishwarya impressed everyone in gold strapless gown which perfectly hugged her curves and the bold red lips only added to her sexy avatar. For her second appearance, she chose a heavily embellished V-necked gown and it was such a visual delight to see Ash back in a fab shape. Anyways, what was it about Aishwarya that was different from all her previous appearances?
The beauty queen certainly avoided five major fashion blunders that she's done in the past. We have listed them for you…
Disastrous outfits: Though Aishwarya repeated the same designer's outfits this year, they were far better than any outfits that she's donned in the past. To begin with, in 2003, Aishwarya was seen sporting Neeta Lulla outfits. We can't forget a strappy pink lehenga that she'd worn. Just the thought of it makes us shudder! In 2004, Ash still dared to trust Neeta Lulla again and hideous is an understatement for her tactastically revealing gown. In 2011, the Dhoom:2 actor stepped on the red carpet in a one-shouldered Elie Saab gown which looked anything but elegant. And in 2013, Aishwarya Rai's black and Sabyasachi lehenga-saree was certainly one of the worst appearances by her. Everything about her look seemed wrong.
Makeup: Aishwarya's makeup was simply impeccable at Cannes this year. Be it the red bold lips or the lovely dash of blue liner above her eyes, Ash looked picture perfect. However, in the past, the lovely lady's looks have been spoiled altogether courtesy her makeup. We remember in 2004, Aishwarya's shimmery makeup was blinding to the eyes. In 2005, Aishwarya looked stunning in a black Gucci gown except for her terrible makeup, again. The former Miss World is blessed with good looks and yet her appearances have been pulled down due to bad makeup. But this time around, she got it all right.
Hideous hairdos: At Cannes 2014, with the blown out hair and loose curls, Aishwarya Rai Bachchan looked bewitchingly beautiful. However, looks like she finally realised from all her blunders. Last year, Ash was seen in a teal gown with a sculptural updo. We were so shocked that we were left speechless. In 2010 too, Ash had sported a puffed-up hairdo and it brought down the look by several notches. In 2009, Aishwarya was seen with a sleek hairdo, which made her face look bigger than it actually is. But the worst ever was in 2010 when Aishwarya was seen in a saree and she had sported a sleek hairdo with a middle partition. We wonder what inspired that look!
Accessories: At Cannes 2014, Aishwarya was seen with minimal accessories and that's what we loved about her! Generally, glam up an individual's appearance but Aishwarya's choice of accessories in the past have totally spoilt her look. For her first Cannes appearance in 2002, Ash was so decked up and so blingy that we didn't know where to look! In 2003, when Aishwarya chose a neon green lehenga (which looked awful), she teamed it with tacky jewellery. We wonder if she forgot to check the mirror! In 2006, Ash had flaunted a snake-like neckpiece. While we loved that piece of accessory, it didn't work for that royal blue gown at all!
Weight: The most important of all factors. Aishwarya Rai Bachchan shut every fashion critics' mouth with her Cannes 2014 appearance. Especially those who bashed her for putting on weight post the birth of her lil daughter Aaradhya. Anyways, Aishwarya Rai Bachchan is back in shape, and when she flaunted her enviable curves this year, she took away all the reasons for anyone to criticise her look.
So BollywoodLifers, wethinks that Aishwarya rocked it on the red carpet at Cannes 2014 coz she avoided all these fashion blunders that she's committed in the past. What do you think, peeps?