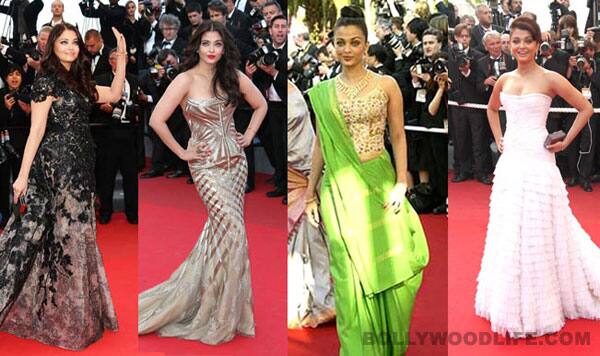 skip advertisement
The former Miss World is the talk of the town ever since she made her first Cannes 2014 appearance. But has she always looked this dazzling on the red carpet? Decide for yourself!
It's old goss that Aishwarya Rai Bachchan missed her first scheduled appearance at the 67th Cannes International Film festival. The stunning beauty made her first appearance on the red carpet at Cannes 2014 yesterday in a Golden Roberto Cavalli gown and boy, she knows how to make heads turn. Her attitude, poise and poses totally made us fall in love with her all over again.
She looked bewitchingly beautiful in the gold gown, even though the same gown was sported by a Hollywood babe at Oscars 2014 earlier this year. And if you were to ask us, Aishwarya Rai certainly gave her best ever appearance at Cannes 2014. If you don't believe us, take a look at the former Miss World's previous appearances at the film festival.
2013: More than a year after giving birth to a daughter, the Dhoom:2 actor still had a lot of post-delivery flab at Cannes 2013. And the once-slender actor was bashed by the fashion critics. Be it the teal Gucci gown, Abu Jani & Sandeep Khosla embroidered gown or the black sequined Elie Saab, the B-town babe failed to impress anyone at Cannes 2013.
2012: Cannes 2012 was held only a few months after Ash had delivered a baby girl and it was clearly visible with her appearance. She was seen posing elegantly in a Abu Jani & Sandeep Khosla ensemble and a sequined Elie Saab too. And well, the fashion police would have put her behind the bars for sure, if not for the lil Beti B…
2011: Aishwarya Rai grabbed eyeballs when she walked the red carpet in a geometric Armani Prive gown at Cannes 2011. She looked healthier than she used to be (also read as heavier) but she did impress a few people, especially her die-hard fans.
2010: Whether it was Aishwarya's stylist or her own fashion sense, this beautiful lady made disastrous appearances at Cannes 2010. On the red carpet, she was seen in a Gucci gown and a black Armani Prive. Hmmm… It spelt tactastic rather than fantastic.
2009: At Cannes 2009, the former Miss World had sported a Roberto Cavalli gown but it was nowhere close to her amazing appearance this year. She looked good waist and upwards back then unlike this time, when she was a stunner all over!
2008: We remember Ash in a fuchsia Roberto Cavalli gown back in 2008 too. She had a slender frame at Cannes 2008 and she looked gorgeous, no doubt. But certainly not her best…
2007: While we understand that Ash and Abhishek Bachchan were just married in 2007, but despite that the white gown didn't justify itself on the red carpet. If it was her dream to don a white gown some day in her life, it should have been in a church. But certainly not on the red carpet. What say, peeps?
2006: At Cannes 2006, Aishwarya Rai Bachchan looked anything but what she did at Cannes 2014. She was seen in a frilly number, which she alone knows why she picked. And that though at an international festival! Well, well, too bad!
2005: At Cannes 2005, Aishwarya was seen in a black Gucci gown with a plunging neckline with a lil bit of sheer fabric. And she looked stunning! But not all her appearances in 2005 were as good as this and yet again, the fashion police had a field day.
2004: As they say, fashion sense evolves with age and time. In 2004, Aishwarya Rai's style statement had not even begin to evolve, we must say. The actor was seen in a cutout Neeta Lulla gown gown. That gown is certainly not perfect for any red carpet event, especially not at an international level!
2003: At Cannes 2003, Aishwarya made the worst possible appearances of her entire career, modelling and acting. In fact, wethinks that if she had ever participated in fancy dress competitions before this appearance, she might have looked better in funny costumes than these hideous outfits. Right from the colour of the outfits to the design, everything was wrong!
2002: 2002 marked Aishwarya Rai's debut at the Cannes red carpet. And she made every effort to get noticed, and as a B-townie (loud and bright). She was seen in a yellow saree and she was so decked up that she could have attended a wedding function and given the bride some tough competition…
Well, to sum it all up, Aishwarya Rai Bachchan has given her best ever appearance at Cannes 2014. The gold gown perfectly accentuated her curves and made her look very sexy. She's one hot mom now. And we'd like to tell all other yummy mommies of B-town to beware, coz the former Miss World is back, with a bang! Stay tuned for more goss about Aishwarya Rai's next appearance at Cannes.