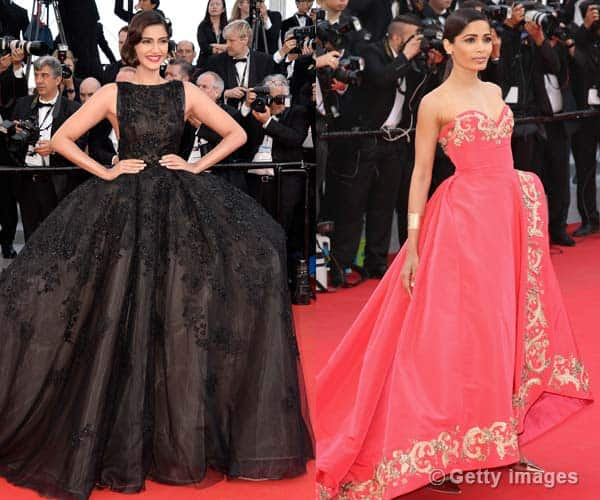 While the third L'Oreal brand ambassador from India, Aishwarya is yet to make her red carpet appearance, the other two have already posed for the 'bugs at the 67th Cannes Film Festival
Each time a dishy dude or a dazzling diva walks down the red carpet at Cannes, we are left gaping at them. We especially await our B-town's gorgeous ladies' appearances on the red carpet. Recently, the former Miss World Aishwarya Rai Bachchan missed her 2014's first Cannes appearance due to a strike. But she will soon be posing for the cameras, we hear. Anyways, the other brand ambassadors of L'Oreal, Sonam Kapoor and Freida Pinto walked down the red carpet at Cannes International Film Festival. Were we impressed? Let's take a look.
The fashionista of B-town chose an Elie Saab Couture gown for her first appearance this year. She had worn her hair in a faux bob. If you were to ask us, the fashionista of B-town didn't look extraordinarily gorgeous. She's certainly looked better on the red carpet before, don't you agree? Sonam looked like she had walked out of a Cinderella story, only in a black coloured gown, no?
While Sonam looked pretty, Freida Pinto didn't look bad either. On one occasion, the Slumdog Millionaire actor was seen in a Michael Kors gown. If not for the feathery look, Freida looked beautiful with the side-swept hair. At another appearance on the Cannes red carpet, Freida walked out in Oscar de la Renta gown with a sleek hairdo. We liked the gown but it didn't quite do justice to Freida's bodytype.
Anyways, you tell us your pick, who looked hotter on the Cannes red carpet – Sonam Kapoor or Freida Pinto?