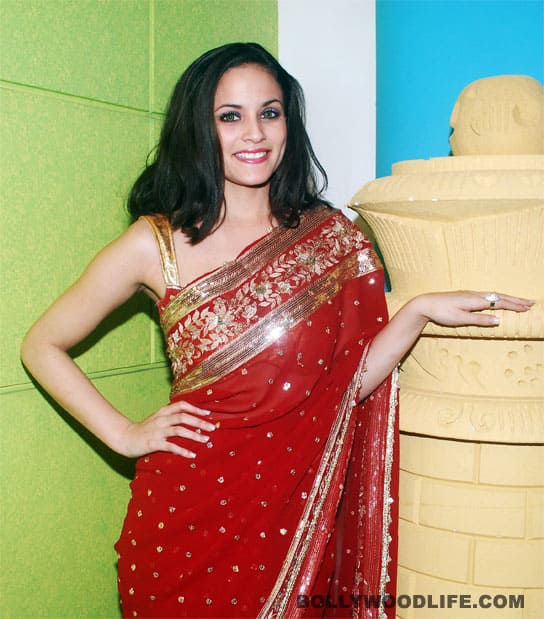 The latest import from America says she is here to do more than just shimmy, seena taan ke
Caterina Lopez is enjoying her Indian experience. "I am having a great time here. I love the butter naans and the rains," says the dancer who calls arid Arizona in USA her home. Ask her why she chose to make a career in Bollywood and she is quick to reply, "Why not? Bollywood is the next big thing. It's a huge industry and you've got films with dancing and singing, and so much colour. It's vibrant." She is loving it so much that she is also learning the language. "I started learning Hindi after I shot for Taan ke seena (her item number in Bhindi Baazaar Inc.) [WATCH VIDEO]. Hindi is difficult, especially for me with my American accent," she laughs. "But I believe that if you put your mind to it, you can do anything."
Caterina is confident of Bhindi Baazaar Inc. doing well. "It's a thriller and not your typical Bollywood film. When I got the offer to do Taan ke seena , I agreed, as I thought it would be fun to do something sultry and sexy." But that doesn't mean this gorgeous lady is going the Yana Gupta way and will do only item songs. "I plan on doing bigger acting roles, not just item songs," she says clearly. "That's why I am learning Hindi!"
Meanwhile, she is also catching up on the songs others are shimmying to. "I have seen Munni (from Dabangg), that's my favourite. I dance to it in my living room, doing all the moves. I think it is my dedication, my willingness to take on challenges that set me apart," she says.
Despite everything, Caterina has gone through times when she started wondering if she had made the right choice in carving a niche for herself in Bollywood instead of attempting Hollywood. No culture or language barriers there. "Yes, I have had my moments of doubt. It's a whole new country, and things are not always perfect. My family and friends have been very supportive. I just think positive. It's challenging, but I want to embrace it. And I really feel that it is my destiny to be here and I have been heading here all my life."
While she makes up her mind about the other offers she's been getting, Caterina says there is just one thing she actually wants, "All I want is to make people smile and laugh with me at the end of a hard day's work." Well said, Caterina. A certain Shahrukh Khan would agree with you!
Photo: Yogen Shah
MORE BHINDI BAAZAAR INC. INTERVIEWS: Prashant Narayanan | Shilpa Shukla