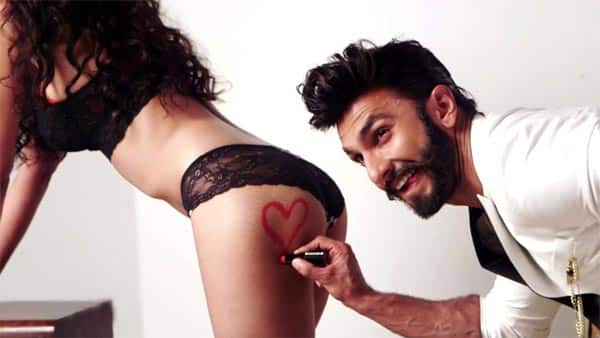 The Ram Leela actor's latest photoshoot for GQ has set temperatures soaring higher than ever before!
B-Town's hunk Ranveer Singh has revealed his never-seen-before wild side in the latest photoshoot for GQ! We couldn't take our eyes off him for even a second, throughout the video, which starts with Ranveer holding a tobacco pipe in his mouth, sporting a punk hairstyle! After catching a glimpse of his various looks in the photoshoot, we conclude that he's completely 'drool-worthy'!
Ranveer is at his cheeky best in the video and his expressions are oh-so-hot! We get to see Ranveer in a deep vibrant blue blazer and a printed tie lazily draped, baring his chest and getting naughty with a lingerie-clad model. Ranveer has retained his unshaved macho look throughout the video, even while donning a formal look. Whether it's the black and white combo or the all-black avatar, Ranveer Singh sets our pulse racing wilder than ever! With a new hairstyle, sexy aviators, irresistible expressions and the tobacco pipe as a prop, this Lootera lad has looted our heart!
Ranveer Singh has let go of himself in this photoshoot and is at his wildest and stylish best… He's revealed his quirky side as the video ends with him showcasing a good boy getting bad, for which you'll have to watch the video! While we all enjoy Ranveer getting naughty with the model, we wonder what Deepika has to say…
[jwplayer mediaid="262008″]