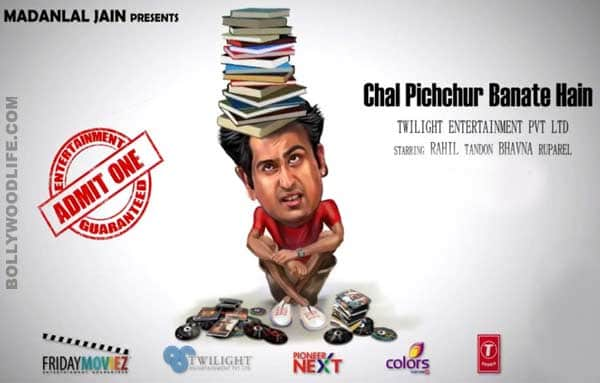 Debut director Pritish Chakraborty whips out a semi-funny 'chase your dreams' tale which seems to be a half-hearted spoof on the Farhan Akhtar-Konkona Sen Sharma starrer 
The trailer of director Pritish Chakraborty's Chal Pichchur Banate Hain gave us hope. We were expecting a film that might tell us things that Zoya Akhtar's Luck By Chance might not have told us. An hour into this venture, I had begun to believe we were right. But alas, I wasn't! Chal Pichchur Banate Hain is loaded with all those clichés that Zoya had painstakingly avoided. Mr Chakraborty's story is about Sagar Kumar (Rahil Tandon), a guy who has wanted to be in the movies ever since he was a toothy kid.
The enthusiastic debut director goes out of his way to tell us how his protagonist loves films over everything else in life. Even as a child, Sagar watched films with his mouth wide open. He faces every possible obstacle and even does what his parents want him to do, but at an important juncture in his life, he chooses his own dreams over the path chosen by his parents and well-wishers. Sagar wants to direct and eventually produce films and for doing so, he gives up his plush job.
At this point you might feel like rooting for Sagar, but suddenly you are told that he has his own weaknesses. Even after toiling hard to get a break with a reputed filmmaker, who would have at least paid him decently, Sagar doesn't think twice about getting into an affair with a girl (Bhavna Ruparel) whose only agenda in life is to get married to a rich guy and live off his loot. If that wasn't enough, Sagar lies through his teeth, that too, to the person he claims to love the most, apart from his family.
Even that would have been fine but the makers continue to throw Bollywood clichés at your face – situations that don't feel real in today's context. Producers who only have money from dubious sources and sneak in intimate scenes just for the heck of it, actors who only want roles that will keep them in the public memory for years after they are gone, and a family that vilifies its son, just so that he pays off their debt. The film would have turned out much better if the maker had stuck to the central theme of a guy chasing his dream and fighting the odds. Instead you get a horrendous tale of a spineless protagonist who is too selfish to even acknowledge his parents' misery.
It would suffice to say that CPBH could have been a better film, only if the director had accorded some more self-worth to his leading man. The problem with debut feature is that the protagonist is delusional beyond redemption. He gets all the opportunities to make a quick buck in Bollywood and redeem his worth in his family's eyes, but he chooses to wait till it's too late. Difficult to digest!
Watch Pritish Chakraborty's Chal Pichchur Banate Hain only if you need some inspiration to get into Bollywood. The director tries to give a message through this movie: if a story is worth telling it manages to find a voice. But if it doesn't then try as hard as you want to, it just won't matter.
In the first ten-odd minutes of this film, you get to watch a short-film about Mumbai, and I assure you that it is the best part of this feature film.
Rating: 2/5
* Poor – Avoid!
** Average – Give it a shot if you are desperate!
*** Good – One time watch!
**** Very good – Must watch!
***** Excellent – Don't miss!
ALSO READ: Rishi Kapoor birthday special: The actor behind the chocolate boy!