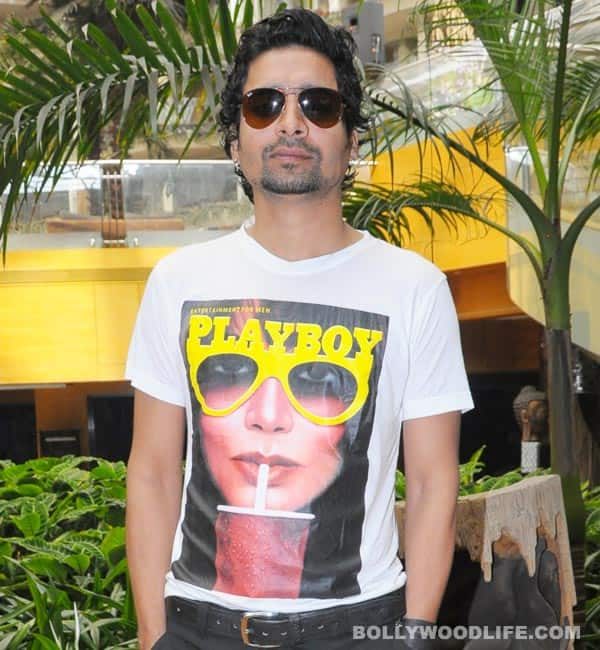 After Prague, the actor will be seen portraying an edgy character in Subhash Ghai's Kaanchi
Chandan Roy Sanyal instantly puts you at ease. If I were to describe him in a sentence I'd call him a pleasant laid-back day at a sunny beach. For an actor of his caliber, I wasn't expecting him to be so unassuming. His last release Prague was the unsettling yet marvelous and he has broken new ground with his role of a sub-inspector in Subhash Ghai's Kaanchi. In a candid chat, Chandan talks about his journey in Bollywood, his relationship with Subhash Ghai and the secret behind his feet being rooted in the ground.
You have described your journey in Bollywood as a Hitchcock movie in the past, why so?
Yes I did describe my journey to be like a Hitchcock film because of the mystery that surrounded it. I never knew what hid in the next corner or what would happen next. I couldn't tell what would come creeping out of the dark. The journey so far has been thrilling and exhilarating. It had bits of horror too at times but it has been exciting overall. Kaanchi came to me from nowhere, just like Kaminey did; I didn't lobby for it.
For someone who has delivered a hit like Kaminey, it would be hard for me to imagine that your journey would have bits of horror…
I am glad that my career graph is going up and high but it is not just my solo effort. The content of every film adds to it.
So tell me about the character you are playing in Kaanchi, Ratanlal Bagula. He is a cop; can we expect him to be like Chulbul Pandey?
Actually, I cannot compare the two characters. Chulbul Pandey had a different tadka to his character than Ratanlal. Also I haven't seen Dabangg so that's another reason why I wouldn't compare Ratanlal to Chulbul. I played Ratanlal primarily as per the brief I received from Subhash Ghai. And he wanted me to play the character like a Jim Carrey, not completely crazy like him but yes I was asked to bring in similar energy and fun to the character. Most importantly like many of Carrey's characters, I had to bring in evil humor in Ratanlal's character. Along with Ghai's directives, I brought in my own imagination to the character as well. So I played him as this unabashedly crass and unapologetically evil yet humorous guy who has his heart in the right place.
After Kaminey's Mikhail, you are Kaanchi's Ratanlal. How similar were these two characters for you?
Poles apart. Ratanlal is not like Mikhail, not one bit. They both don't hail from similar backgrounds. If I had to compare, I'd say that Ratanlal is a lot like Charlie from Kaminey. They are both outsiders wielding less to no power at all. Ratanlal is not as powerful as Mikhail. He isn't as calculative or speculative; he doesn't immerse himself in drugs. To put it simply, he is an evil simpleton who is a fool at heart and belongs to a small village. Much like Ram Lakhan's Lakhan, he is mysteriously naughty and wants to make a lot of money but in the process of making money he falls into a trap. He is a small man driven by money and power; he is a sub inspector who enjoys his wine and women. More importantly, he fancies Rishi's Kapoor character in the film and he goes out of his way and deep into corruption to get his way.
So is Ratanlal a clichéd Haryanvi cop being crass and uncouth?
If one goes on and says that it's a cliché, I will feel really bad. Because as an actor I try really hard to put myself in this character and portray it with utmost genuineness. Every character that I play, I play it differently and it is never a cliché and from what I hear, my performances are appreciated. I expect the same for Kaanchi. Kaanchi is not a realistic film, it is larger than life up to the point of disbelief, just like any other typical Ghai film. I have played this character in the same fashion as Ghai's film characters are. While we were shooting the film Ghai told me that Ratanlal is his favourite character from the film and it took a long time for him to cast an actor for this role. I was the last actor to be cast in the film. For 10 months, with Ghai's guidance, the character evolved organically and we kept rewriting it while shooting scenes. I believe that the effort has paid off and the outcome will be successful.
How different are Subhash Ghai and Vishal Bharadwaj as filmmakers?
There are more similarities than differences between the two. Firstly, both are outsiders in this industry and both have carved their own niche style of film-making. I was treated affectionately by both these people because I too was an outsider with no prior backing. Secondly, both have a strong musical sense. Vishal composes music for his films often and Subhashji too has composed music for Kaanchi. Thirdly and most importantly, they are both very actor-friendly and actor-specific. They let the actor be in his/her own space. What I love most about these directors is that they never say cut, they let the cameras rolling to capture what the actor is bringing to the scene even after it is over on paper (in the script) The movement is flexible for an actor in such a scenario and he has the capability to take the scene somewhere else, somewhere further. And lastly, both are writers.
From what I have read about you and just heard from you, you seem to share all these similarities with the Ghai and Bharadwaj. So are you going to explore your musical sense professionally in the future?
Music is a very sacred medium for me. I enjoy it a lot and I am always listening to some or the other kind of music. Even when I am napping, I put some music on. So yeah, maybe over the years I would like to take up music in some way or sing in a film, who knows!
Your item number in Kaanchi, Mushtanda, has created quite a stir.
Yes that one is beginning to become a hit I hear. I got to be a part of two songs in Kaanchi and I had to sing and dance on screen. Not an easy job. Because I am musically inclined I would not just lip-sync but actually sing the songs during the shoot. Even for Dhan te nan I did the same. You know I always try to make it seem believable to the audience. I want the audience to be infected by the energy that I bring in the songs. Aisa nahi lagna chahiye ki fake hai. When someone watches the song in the film, the enjoyment they derive should be amplified. I always perform the song in character and so far every film I have worked in has given a chartbuster! So yeah even for Mushtanda I am dancing and singing to hit the right note with the audiences.
And what's with the quirky goggles in the video?!
(Laughs) These goggles are going to become a thing man! Ghai discovered them somewhere and after we winded up shoot I returned them to the production department. When a friend saw the video he asked for those goggles and I was amused! Those goggles have a Jim Carrey essence, the layered business just makes them even awesomer. I really hope that in the years to come people copy Ratanlal just how they started copying Mikhail! To see those glasses becoming a trend would be fun.
We can't help but ask, can we expect to see some sizzling chemistry between you and Mishti?
Ghai made the decision to make me fall in love with her. (chuckles) Par pyaar ek tarafaa hai. She despises the cheesy guy that I am but she uses me to get something she wants and when I get to know about it, I do something to get back at her. I won't reveal much but yes I'd say that you can expect some chemistry, from my side alone!
Well having said that, after working with Mishti do you see her becoming the next Aishwarya or Madhuri of Bollywood?
She has miles to go before one can answer that question or even slot her in any category. She is new and has a lot of work ahead of her, so yes it is too soon to tell. But she has held Kaanchi on her shoulders and that is commendable.
This is my first interview with a celeb and I didn't expect you to be so nice to me! How do you get to be so humble?
I have seen my mother struggle hard to raise me. I have faced a lot of rejection in life myself. And I am not all white. I too have my moments of bitterness, I suffer from inferiority complex at times but I have learnt that being humble always helps you get through the day.
I also believe strongly in Karma and if I do someone ill it will come back at me. Which is why I choose to behave very cautiously and my friends often tell me "yaar badalna mat!" and I say "maine kya ukhaad liya jo badal jaunga?" Main kuch complicate nahi karta, I believe in simple things in life and treating everyone nicely. I am just an actor doing a super normal job and doing nobody a favor or special service, so I don't have any reason to misbehave.
That's a noble and wise thought! Before we wrap up, could you tell us about your upcoming projects?
I am doing Abbas Tyrewala's Mango and Ruchika Oberoi's Island City next. After that I will work on Bangistaan which is yet to start.