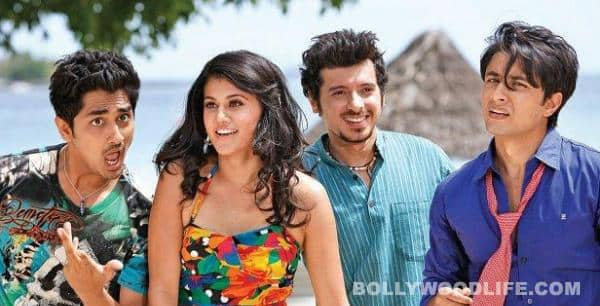 Bollywood's comedy king shows us just why he is called that, with a fun remake of Sai Paranjpye's classic
What? David Dhawan does not want to make comedies anymore? Yup, that's what he told us just before the release of his latest comic caper, Chashme Baddoor. Wethinks Dhawan should change his mind! For he has delivered a super entertainer in the remake of Sai Paranjpye's 1981 hit, Chashme Buddoor. The film bears the Dhawan-Govinda stamp all over, and could've been just another one of his slapstick comedies with any other name, although the plot is more or less similar to the original.
Sid (Ali Zafar), Jai (Siddharth) and Omi (Divyendu Sharma) are three perpetually broke lukkha college friends and roommates who are wooing the same girl, Seema (Taapsee Pannu). While Sid is the calm and studious type, Jai is an all-out perv and Omi the shaayar is similar, too. Of course, all three are 'good at heart'. Seema keeps escaping to her daadi's Goa home to avoid an arranged marriage, and the story unfolds in Goa with many funny situations, parodies and a predictable ending.
Writer Renuka Kunzru has done a decent job of adapting the screenplay into a modern one, but the nuances of the classic are just not to be found. The new version is a loud romcom – a far cry from Paranjpye's subtle one.
But in Dhawan's film, the dialogues are the hero – actually funny and not just trying to be. Writers Sajid-Farhad have shown tremendous talent here. The witty – and sometimes crude but not cheap – lines keep the audiences entertained even when the film slows down in parts and gets monotonous. Editing by Nitin Rokade is bang on, except at one place when a 'sher' is cut abruptly.
Ali Zafar returns in a comedy after the 2011 hit Mere Brother Ki Dulhan, except this time, he gets the girl. He gives a restrained performance and is easy on the eye. But does he match up to the youthful charm of the handsome Farooq Shaikh in the original? Far from it! Siddharth's acting is decent, but he seems more at home with his intense performances like the ones in Rang De Basanti and Striker. But it's Pyaar Ka Punchnama actor Divyendu Sharma who steals the show as the shaayar. This boy delivers a punch in almost every line and every scene, standing tall among the other actors who come with some experience. Hats off to him!
Zafar, Sharma and Siddharth obviously have worked on their tuning and show great camaraderie. As for the chemistry between Ali and Southern hottie Taapsee Pannu, it's not too happening and maybe it was supposed to be that way.
Taapsee, a real-life software engineer, is a natural PYT, but there's nothing memorable in her performance except maybe the line 'Dum hai, boss!', and her bike riding. She does merge into the comedic situations well, to her credit. But Deepti Naval's Miss Chamko is not what Taapsee is reprising. In fact, it's the exact opposite of her character.
Rishi Kapoor as Joseph Furtado is nothing like Chashme Buddoor's lovable Lallan Miyan (Saeed Jaffrey), but Furtado charms you and has some of the best lines. So does Lillette Dubey as the boys' landlady, Josephine. Kapoor and Dubey's romance is more endearing and it could've had some more meat. And strangely, the famous Chamko sequence between the lead pair in the 1981 film is here used in Joseph and Josephine's parallel love story. Really, was it even needed? You don't need to take everything from the original just for the sake of it, do you?
The other veterans in the cast, Anupam Kher (in a double role) and Bharti Achrekar are spot-on with their comedy.
It seems like David Dhawan knew all along what Vidya Balan's Silk told us in The Dirty Picture – that it's all about entertainment, entertainment and entertainment. And Chashme Baddoor is entertainment at full blast! But don't watch it if you hold the original movie too close to your heart.
Rating:
out of 5
Reviewed by Shweta Parande
* Poor
** Average
*** Good
**** Very good
***** Excellent