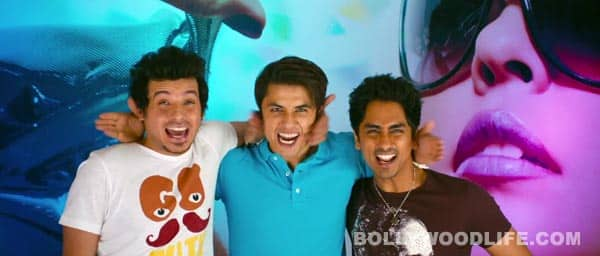 This fun song from the movie shows the trickster trio getting into some serious womanising early on in the day
The recently released song from Chashme Baddoor titled Early morning clearly shows what a madcap film it is going to be! In this song, Ali Zafar's girl-crazy roommates Siddharth and Divyendu Sharma corner him and inquire about their new neighbour Taapsee Pannu and how Ali met her for the first time. Ali, like a true friend, fires up his mates' imaginations by giving them a flash back and a blow by blow account of his fresh romance that is brewing with the girl next door. And while they listen to his tale, the two guys are eyeing the same pretty girl Taapsee with renewed interest!
In the song, Rishi Kapoor too shakes a crazy leg, as he dances with Ali in his brand new biker dude avatar complete with a leather jacket and a handlebar moustache. Check out the song to see what sort of nutty early morning antics these guys are up to!
[jwplayer mediaid="195349″]