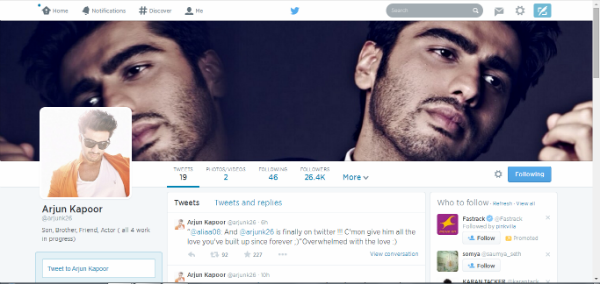 The Gunday actor is finally on Twitter and the fraternity gives him a warm welcome!
Arjun Kapoor now has a Twitter handle and more than him his B-Town buddies Sonakshi Sinha, Alia Bhatt and Karan Johar are excited about it!
Although we suspected that the actor will join the Twitterati on his birthday on 26th June, the star gave his fan's an early surprise! The Kapoor lad describes himself on Twitter as a "son brother friend actor  (all 4 are work in progress)", so humble and sweet na? In just about a few hours of having joined the microblogging website, Arjun garnered around 26 thousand followers and not surprisingly the numbers are still going up!
He posted some hilarious tweets to thank his friends for welcoming him and we could tell the actor is still learning the art of tweeting! Here are some of Arjun's tweet gems:
@sonamkapoor: Didi didi didi
@priyankachopra omg Priyanka Chopraaaaaaa
@sonakshisinha: "@arjunk26 omg the legend is here. I know I had something to do with this"  you brought out this new TEVAR only you
@parineetichopra: "Hawa ka jhonka mujhe hila ra hai dulaa ra haaii!! @arjunk26" because I am entering in slow motion… tumhe hila dala…
This hot and funny actor with a brilliant sense of humour is sure to have the juiciest Twitter handle in the future, don't you think?