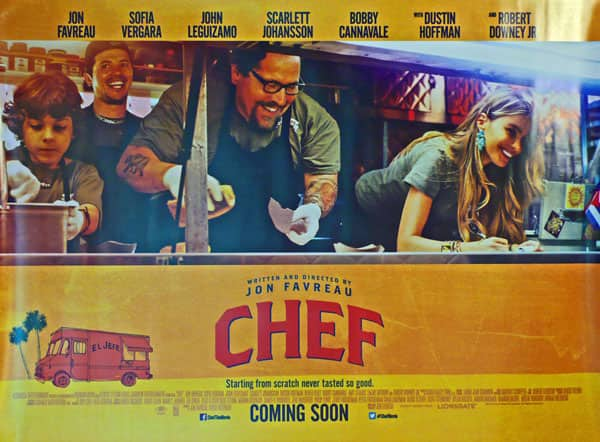 A small cameo by Robert Downey Jr lightens up this Dustin Hoffman, Jon Favreau, Sofía Vergara, John Leguizamo and Scarlett Johansson starring movie
What's it about:
Comedy drama Chef sees Jon Favreau as Carl Casper, the titular chef who constantly tries to outdo himself but has little time for his son Percy (Emjay Anthony), the child of his failed marriage to businesswoman Inez (Sofía Vergara). A perfectionist, Casper is torn between his experimental creative instincts and the status quo-ist demands of his Los Angeles-based establishment's owner Riva (Dustin Hoffman) whose firm belief is 'if it isn't broken, why fix it?' Arm-twisted into sticking with his tried-and-tested menu when being reviewed by revered online food critic Ramsey Michel (Oliver Platt), Casper's work is ripped into shreds by the latter which results in an inadvertent Twitter war after Michel's scathing review goes viral. Driven over the edge, and with his reputation in tatters after a public meltdown — which also goes viral, Casper, along with Inez and Percy, heads back to the Miami, the city that nurtured his talents, to go back to square one and find out how he can channel his creativity.
What's hot:
Chef whips up a satisfactorily captivating, and often funny, tale of self-discovery. And who doesn't love a good road movie? Recently seen in front and behind the camera with Marvel Studio's films as the director of the first two Iron Man films and in the role of supporting character Happy Hogan, Favreau's latest directorial venture is stripped down in comparison and amply displays his more-than-workmanlike script writing skills. This is visible from the funny vignettes that pepper the narrative and the plot itself is pretty watertight.
Favreau has excellent comic timing and puts everything into his portrayal of the heavily tattooed artist, a self-confessed failure at everything apart from his one love in life — cooking. Anthony, playing the Casper's oft-neglected but brilliant and tech-savvy son is a talent to look out for while John Leguizamo, who plays Casper's line chef steadfast friend Martin, is an old, solid hand at supporting roles. Speaking of which, Robert Downey Jr, in a hilarious and screen-stealing cameo that lives up to expectations, shows up as Inez's cocky first ex-husband. Their fellow Marvel staple Scarlett Johansson, however, is underused as Molly, the hostess of Casper's restaurant.
Ok, but what of the main attraction, grub? Foodies and food porn addicts, you can be rest assured — without giving anything away — there is no dearth of mouth-watering treats upon which you can feast their eyes.
What's not:
If Favreau is to be faulted, its for the amount of events that are crammed into the 114-minute running time, making the film appear overcooked.
What to do:
Chef is palatable feel-good fare whose recipe has smatterings of moving performances and dashes of rib-tickling humour.
Rating:
out of 5
Reviewed by DNA
* Poor
** Average
*** Good
**** Very good
***** Excellent