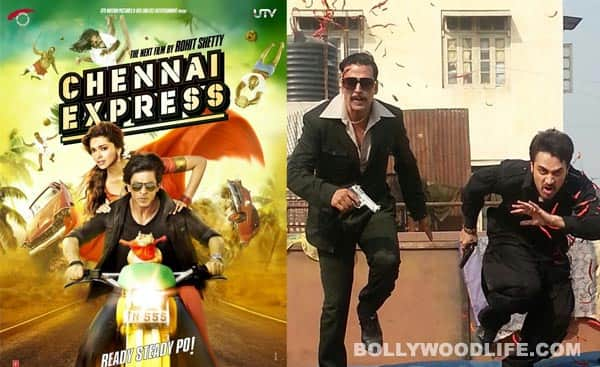 Reportedly, the Shahrukh Khan and Akshay Kumar starrers, scheduled to release this Eid (August 8), have been abandoned by Pakistani distributors and exhibitors in the interest of four of their films releasing on the same day. But our trade sources feel it's too early to comment…
Those who are anxiously awaiting the release of Chennai Express and Once Upon A Time In Mumbaai Again, especially the Pakistani audience, might probably not get to see the two films featuring their favourite stars – Shahrukh Khan and Akshay Kumar – that were slated to release on the auspicious occasion of Eid. The reason being given is that Pakistani filmmakers want four of their films to get more visibility and prominence than the two big-budget Bollywood films.
A tabloid report says that the theatres in Pakistan generate maximum revenue from Hindi films, and one can just imagine the excitement and buzz when a SRK starrer releases in Pakistan, that too on Eid! A leading Pakistani distributor Abdul Rashid said that the two films won't release on August 8, but he also said that the distributors and exhibitors won't mind rescheduling the release date to August 15.
However, an Indian distributor, on the condition of anonymity revealed to us that it's too early for a film production company to plan the distribution process – almost four months in advance – and hence the tabloid story seems impractical. Watch this space for more updates!