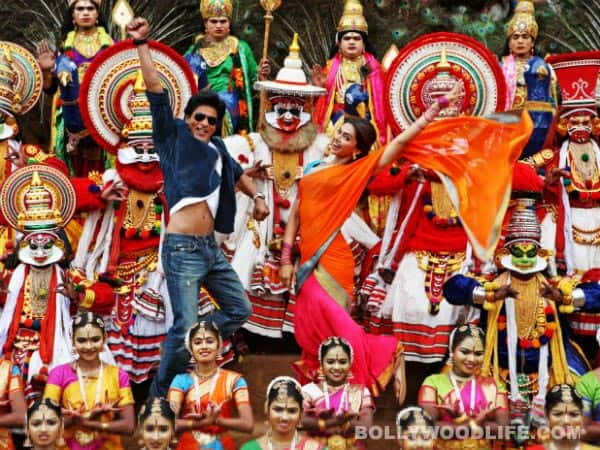 He may be the Baadshah of Bollywood, but SRK too cannot escape feelings of excitement, nervousness and anxiety. Does he have reason?
Shahrukh Khan has been madly country and state hopping to promote his latest film Chennai Express and with less than 24 hours left for the janatas verdict, SRK expressed his true feelings on Twitter. The actor wrote: 'Awake now. Need to surround myself by love….think will get the kids to come and envelope me with their hugs. The best safety blankets…' Is he nervous so close to the release of CE, which has been directed by Rs 100 crore ace Rohit Shetty and stars superhit sensation Deepika Padukone? It certainly seems so!
But SRK could feel instantly better if he knew that the micro-blogging site was buzzing with reactions to Chennai Express. King Khan's buddy and Don director Farhan Akhtar managed to catch the film at a special screening held at Mannat recently and was overjoyed to take the mad ride cross-country. The latest entrant into the Rs 100 crore club with Bhaag Milkha Bhaag tweeted: 'Boarded the Chennai Express last night and it was a full on Rohit Shetty style joyride! @iamsrk & @deepikapadukone in top form… Enjoy!' Self-proclaimed film critic Kamal R Khan too had some very strong positive comments for Chennai Express and his favourite Deepika Padukone, 'It's interval and truth is this tat #ChennaiExpress is Baap of all films of 2013. It's mind blowing n really really hilarious. Again @deepikapadukone has proved that she is no.1,2,3 heroine of Bollywood. All other heroines start from 4th number.She is simply the best. Yaar Rohit Shetty Tum bahut bade kamine director ho. You are not good but actually very very very best n U have proved with #ChennaiExpress. I give 4* to #ChennaiExpress. Film #ChennaiExpress will not break records but will fuck and destroy all the past records. So congrats to @iamsrk @deepikapadukone n Rohit'.
And the excitement is not limited to friends and family. A fan eagerly awaiting the Deepika Padukone-SRK film's release tweeted: 'History created in Ahmedabad already – 700+ senior citizens have booked the entire theatre to watch #ChennaiExpress on Aug13'.
Now this must be good news for the nervous Khan, wethinks. As for whether this film will bring Shahrukh back to the top spot in B-town….well we wait to find out!