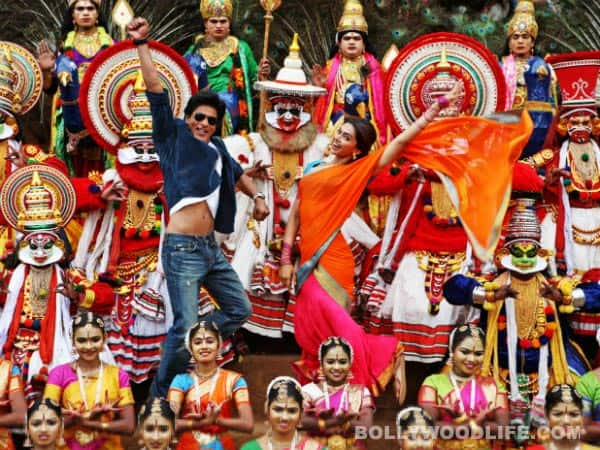 Deepika is super as the spicy South Indian chick in Chennai Express, but King Khan goes overboard with his hamming
Rohit Shetty's Chennai Express starring Shahrukh Khan and Deepika Padukone looks like a film that was executed while the makers were in a goofy mood. The result, we must confess, has turned out to be nothing less than abysmal. While Shahrukh's hamming like no one's watching, the story flows through the lanes of shoddy dialogues and unnecessary action scenes. The slapstick, mind-numbing comedy makes you stare at the screen with utter astonishment – the shock of enduring one bad joke after the other is worse than consuming a bitter, terrible tasting tonic.
So this is how the torture-inflicting process begins – Shahrukh (Rahul) is a 40-year-old guy who runs a sweet shop. But life isn't too sweet for this lad until of course his grandfather passes away and Khan can finally live life on his own terms and give wings to his dreams. And he plans to start his freedom fiesta in Goa – but freaking fate has some other plans. He bumps into this gorgeous Tamilian girl (Deepika as Meena) who has been running away from a posse of fat sickle wielding gundas. Meenama's dad wants her to marry Tangaballi played by the enormous Nikitin Dheer. But the chick would rather stay single than tie the knot with someone who hasn't managed to touch the cockles of her heart. And there the hero's Goa plan takes a U-turn and heads to the beautiful locales of South India.
Instead of chilling on the idyllic beaches of Goa, SRK is now entangled in a murky situation – he wonders why he showed any interest in Meenama at all. Why did he give her a helping hand while boarding the train – typical Dilwale Dulhania Le Jayenge (DDLJ) style? He just needed a plain vacation and what he got instead is a dangerous ride on the Chennai Express. The goons catch hold of him and Deepika and take them to their village where the heroine's dad – the deadly don is waiting for his daughter only so that he can hitch her up with the hulky Tangaballi. And that gives rise to a series of chaotic hide-and-seek games. And in the process Deepika and SRK fall in love. What does that sound like – clichéd or boring?
There are a few scenes that give us the uncontrollable giggles but that wasn't enough to hold our interest in the film for too long. Deepika looked lovely and did great justice to her South Indian twang but SRK disappointed with his over-the-top performance. Without a shadow of doubt, DP takes the cake in this one. The film has this disorganised and incoherent quality about it, and trust us you don't want to be a part of this mess. As the film ends with the super entertaining, feet thumping Lungi dance song, we wonder which was King Khan's last film, his last performance that totally mesmerised us. Chak De! India (2007)…but that was ages ago, no..?
Watch trailer: Chennai Express
Rating:
out of 5
Reviewed by Deboshree Ghosh
* Poor
** Average
*** Good
**** Very good
***** Excellent
Rating:
out of 5
Reviewed by Deboshree Ghosh
* Poor
** Average
*** Good
**** Very good
***** Excellent