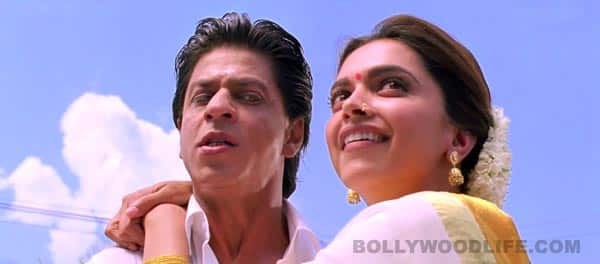 The hilarious dialogues from Rohit Shetty's new romcom suggest that the audience will witness a great chemistry between the Om Shanti Om stars…again!
Shahrukh Khan and Deepika Padukone make an awesome pair and share some rather great chemistry – that is obvious from the dialogue promos of their new Rohit Shetty-directed romcom, Chennai Express. Right from the time when the two are shown fighting with each other, when SRK tells Deepika, 'Don't underestimate the power of a common man', to the line where Dippy tells Khan, 'Kahaa se churaayi aisi bakhwaas dictionary' and pulls his leg by calling him a halwai… to the point where Deepika kicks King Khan's butt because she has a sleep disorder, the twosome rock! And the Baadshah hitting back at her saying, 'Tere appa ka scooter hu jo kick maarti hai, huh? Tu Don ki nahi donkey ki ladki hai…' had us rolling around giggling.
And this is just the promo. Imagine what the film in totality is gonna be like! Check out some special moments from the latest scenes of the Rohit Shetty fun flick. We handpicked them for you just to cheer you up on a dreary day. Do let us know which one made you laugh the loudest!