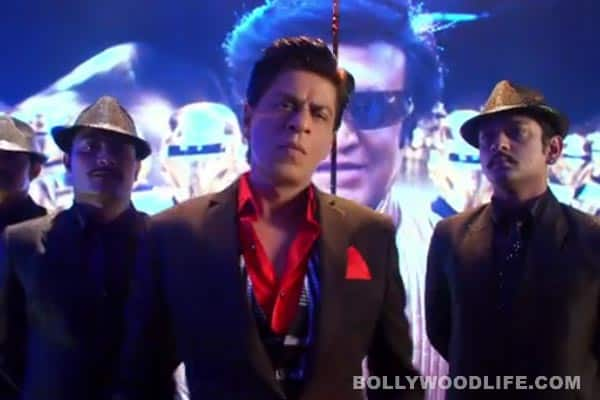 The much anticipated Lungi number is here. But honestly speaking, we are not impressed!
We were eager to see Shahrukh Khan and Deepika Padukone shake their booties in a lungi. Yes, the much awaited Lungi number from the duo's forthcoming movie Chennai Express is out now but we are not particularly happy with this visually jhatak and musically not so upbeat number. Here's SRK with the ravishing Deepika in shocking pink costumes. Clearly, the number is dedicated to Rajinikanth with SRK advocating the power of the south superstar's moustache and the magic of his immaculate style.
Both SRK and Dippy are in a full on masti mood in this dance number. The lyrics invite all the die-hard Rajinikanth fans to hit the dance floor and sing along Moochon ko zara round ghuma ke Anna ke jaisa chashma lagake coconut mein lassi milake aajao sare mood bana ke.
With Shahrukh and the leggy beauty drenched in bright neon light on this blinding set, the lungi song is an optical overload but doesn't have much in it to rave about.