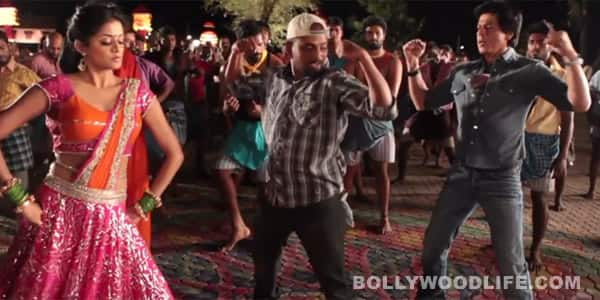 To make this dhinchak number visually appealing, King Khan and the South hottie try to put their best foot forward and match up to the fast beats, and Rohit Shetty helps them achieve that!
Rohit Shetty's much anticipated romcom, Chennai Express featuring Shahrukh Khan and Deepika Padukone is releasing this Eid that is August 8. Probably for the first time, Rohit has incorporated a dhinchak tapori dance number in his film, considering the commercial aspects, maybe. In the making of this explosive dance number One two three four, the choreographer tells Rahul aka SRK to dance better and match steps with the fast beats (despite his shoulder injury). And the trio – Shahrukh, Deepika and Rohit are seen having loads of masti.
So far we've only heard of Rohit being a taskmaster on the sets but the video gives a very different story. Look how he's enjoying playing pranks on his unit members including the cameraman standing next to Shahrukh and Dippy. From what we see, SRK is a thorough entertainer and charms people off the sets too. He's seen joking and giggling with his co-star Priyamani as they rehearse the foot-tapping number. Watch the makers and actors of Chennai Express shoot for the high-energy song!