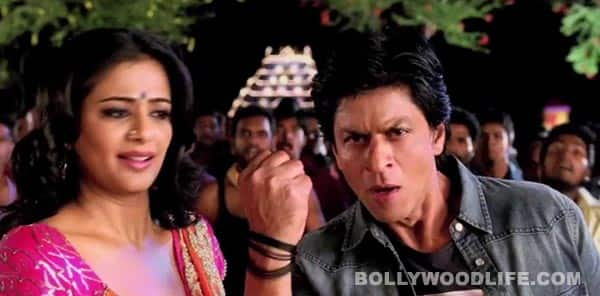 Here's the first song from Rohit Shetty's much talked about action movie starring Shahrukh Khan and Deepika Padukone. In all honesty, we are not thrilled by it, though the trailer really grabbed our attention. Watch the number and tell us what you think….
Loud and over-the-top, the trailer of Rohit Shetty's Chennai Express looked really entertaining and we were eagerly waiting for the first song to be released. But what we got in the bargain for our long wait is not exactly worth all the anticipation. Given the flavour of the film, we expected a nicely colourful song featuring the lead pair of Shahrukh Khan and Deepika Padukone, or even a mast item scene with that pretty gal from the South, Priyamani.
But alas, we were in for a disappointment. One two three four might be your regular average dhinchak tapori number, but it doesn't quite live up to the hype the movie has created. Priyamani and our fave star Shahrukh are trying really hard to make this one explosive, but their energetic moves offer not much that will light up your eyes. Their efforts are not helped by the quirky lyrics or the rather thanda composition by Vishal Shekhar. We are still trying to figure out what exactly SRK is doing in this song.
We liked the title song, Chennai Express. And we kinda approved of the sountrack that we caught a listen of in the trailer. This one….not so much. What do you think, BollywoodLifers?
[jwplayer mediaid="237034″]