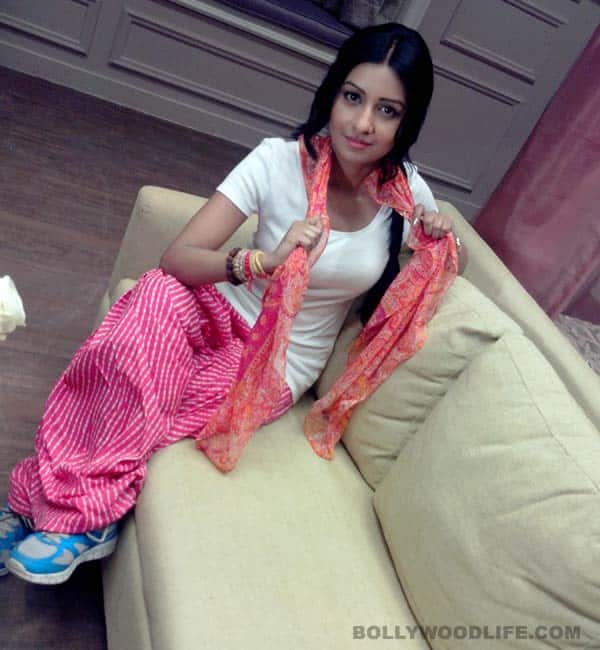 She is a newbie and the nervousness is clearly seen on her face…
Chhavi Pandey started her career with Teri Meri Love Stories on Star Plus and Life OK's Ek Boond Ishq is her first daily soap. The actor talks about being compared to Anushka Sharma and Amrita Rao, her reservations about the role and her off screen chemistry with Viraf Patel…
Is Ek Boond Ishq your first project on TV?
No, I have done one short film on Star Plus in Teri Meri Love Stories with Karan Wahi. I have done some regional stuff too, but I do not want to talk about that here. Besides that, I have worked with BBC on a show called Sang Mere Dol Tu directed by Nikhil Advani, but that didn't go on air, I don't know why. Post that I got Ek Boond Ishq on Life OK.
Your character in this show looks like the role Anushka Sharma played in Band Baaja Baaraat. Is there any similarity?
There could be some minor similarities, but my body language and the way I speak are completely different. My look in the show seems similar to Anushka's, but this role is not the same. A few days back people were telling me I look like Amrita Rao, now they are comparing me to Anushka. While I am honoured, I am here to make my own identity.
What is Ek Boond Ishq all about?
It's a romantic story and is very different from the typical saas-bahu drama. There are a lot of twists and turns in the show; people watching it will be amazed. People are bored of the usual stories – this will come as a breath of fresh air. Mrithyunjay, Kalavati and my character are the strongest in the show. I can't define Ek Boond Ishq. The show is written very well.
Is Viraf Phiroz Patel playing a double role in this?
Viraf is playing Mrityunjay, who will also be called Neil in the show 'coz of a twist in the story. However, it's not a double role.
How did you bag this role?
I got a call from BBC Productions for this role. At that time I was still working with Star Plus. They recommended me for this role. The production house called me for an audition and when I read the script, I was a little skeptical. I am completely opposite to the character of Tara. In real life I am an introvert and a little shy, but the character they offered me was loud, in your face and bold. I didn't think I could do it at first. However, I think it was my lucky day, 'coz the channel really liked my audition. I got my confidence from that and I received a lot of appreciation for it.
How is your off screen chemistry with Viraf Patel?
Viraf is a very sweet guy, but he is too mischievous. He loves teasing me, especially during my makeup. I guess he is just jealous that he doesn't get to do as much makeup as I do!
Does Viraf flirt with you?
No, he doesn't.
Do you think Viraf is hot?
Yes, I think he is very hot!
Tell us about your equation with Vishwajeet Pradhan.
I am blessed to be working with such good actors. All my co-actors are a school of work; I get to learn a lot from them. See, I am a newcomer; this is only my second show. No one throws any attitude because they are more experienced or anything like that. It's a pleasure working with such good actors.
Is there a special somebody in your life?
Not at the moment. Right now I just want to concentrate on my work and make my career.