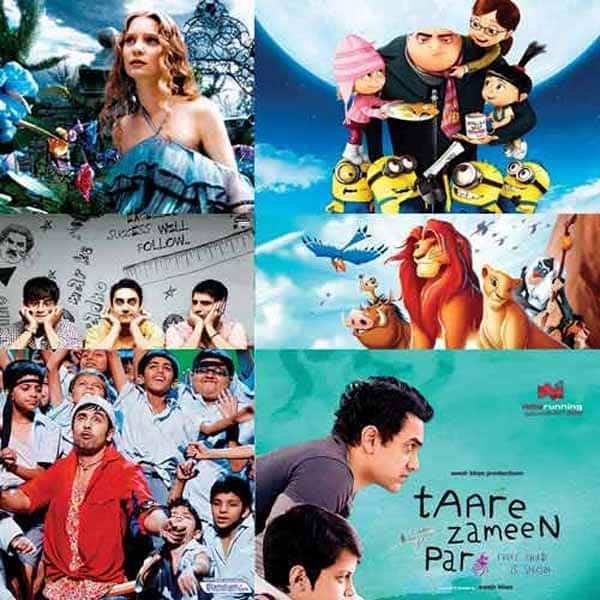 On Children's Day, celebs recommend their all-time favourite children's film that every kid should watch…Read on to find out!
Films are often slammed for being a negative influence on children. However, there are exceptions that went on to win the hearts of children, who have now grown up to be celebrities in their own right. To mark Children's Day, we take them down memory lane, and ask them to share their all-time favourite children's film that they recommend every kid should see and why. Read on to find out more…
Anita Dongre, fashion designer
The Lion King for sure. It's animated and about the wild. It has a happy ending. In the film the good reigns supreme and it inclucates that message in children. All children's movies should have a happy ending.
Priyadarshini Rao, fashion designer
Alice In Wonderland is the first movie that comes to mind. It's been very creatively put together and has a lot of visual appeal. Also, it toys with imagination and children relate to that. Also, the fact that Alice holds her own despite not being cared for is a great lesson for kids. This is one movie which doesn't talk down to kids.
Ketan Bhagat, author
Every child should watch two films The Pursuit of Happyness — this is how much every father loves his child — and Ra. One, which shows how little even the king of entertainment knows about what entertains children.
Brinda Miller, artist
Despicable Me 1 and 2 are my favourite films . I love most animated films especially the Disney and Pixar productions — they appeal equally to children as well as to adults. The visuals are fantastic and so is the humour. Also, I have similar characters in my life (the Minions) So can identify with this movie completely.
Lillete Dubey, theatre personality and actor
The Sound of Music — it was my favourite! (In fact can still see it again!) It's about the strength of goodness, the magical healing power of music, a lesson about following your heart, and the freedom and simple joys of childhood together with great acting, cinematography, music and a lovely story!
Disha Vakani, TV actor
I would advise children to watch Chhota Chetan. It was a very well-made film and all the children had given good performances. Plus, it sent across the message that good always wins over evil and that one should never give up no matter what. There is always a way to find a solution. It also had loads of entertainment. I saw kids really enjoying it in the cinema hall. Get a DVD and watch it.
Gautam Rode, TV actor
I would recommend 3 Idiots as it is entertainment with a positive message. While it can raise laughter with its comic moments, it also sends out messages of creativity, friendship, etc. It's a film that children can watch again and again and not get bored of it.
Roopal Tyagi, TV actor
Hum Hain Rahi Pyaar Ke is a must-watch. Every kid should watch it at least once. It's a fun movie and the plot of the kids reuniting their guardians is so funny considering how naughty they are. The children were presented in an innocent and hilarious way. It also conveyed the message how important it is to take care of kids and that all they want is love.
Sangeeta Ghosh, TV actor
Two good films come to mind, Chillar Party and Taare Zameen Par. Both the movies connect with kids and send out key messages. Today's generation is the future of our country and they should be inculcated with these kind of encouraging messages that will help our society.
Asha Negi, TV actor
Taare Zameen Par is a perfect film for children to watch. Not only does it have a brilliant child actor like Darsheel Safary, but the film is really motivational.The songs too had become a hit, so it's entertainment along with some good morals.
Masaba Gupta, fashion designer
Life Is Beautiful because the film has a lot of scenes which convey a deeper message for kids. Also, it's set in war times and it shows how parents protect their kids from war. So for today's kids, it'll be a great watch.
Nakuul Mehta, TV actor
An Iranian film by Majid Majidi, Children Of Heaven is a simple and beautiful tale about a child's desire to own a pair of shoes. It is a poignant story that teaches you values like selflessness, kinship and purity of relationships. It gives you an insight into a child's innocent mind and simple things which really affect them. This will be a perfect gift for every child and also adults on Children's Day.