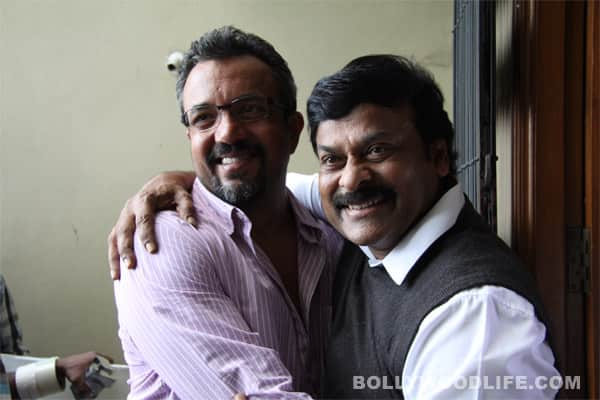 The South megastar dropped in on the sets of his son's debut Hindi film
Director Apoorva Lakhia and the Zanjeer team, who are presently shooting for the remake of the 1973 hit, at the famous Ramoji Rao studio in Hyderabad, were more than happy to have South superstar Chiranjeevi as the surprise visitor on the sets of their movie recently. Seems Chiranjeevi couldn't resist checking out on his son Ram Charan Teja, who is making his Bollywood debut.
"Everyone was thrilled by Chiranjeevi's presence. The unit members were in the midst of shooting an intense sequence when he came in, but instead of interrupting the shot, he preferred to wait for the scene to get over," reveals an insider present on the sets, further adding that Chiranjeevi was very gracious and spent time with Ram Charan, Priyanka (Chopra) and Apoorva on the sets. He was in a very jovial mood and also watched some of the scenes that beta Ram had shot for, and if you think he gave some suggestions to Ram or Apoorva, then you're mistaken, because the ecstatic father was very happy with the way the film has shaped up, so he just wanted to meet the people involved and thank them, says our feathered friend.
What followed was a long session of chit-chat, film discussions and a grand feast. Immediate arrangements were made to get some mouth-watering Hyderabadi delicacies, and the entire team feasted on the lavish spread.
The sweet gesture by a doting father just takes the excitement level several notches higher, what say Ram?