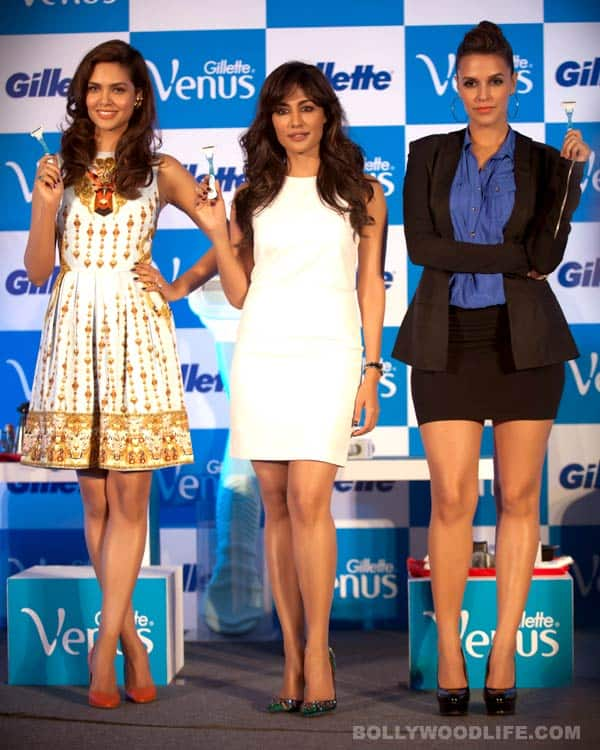 As the three hotties from B-town flaunted their toned and silky smooth legs at a recent media event, we cornered the trio to find out what it takes to maintain those long limbs and score high figures. Take a look!
They turned on their heels and turned us on! Chitrangda Singh, Neha Dhupia and Esha Gupta gave us a generous does of their silky smooth starry legs recently. "It's very rare for women to come out and talk about something as intimate as how they keep their legs looking beautiful, but I hope that we are doing a fine job to make every woman look more confident and goddess like. If you have it, flaunt it," said Neha, as she stood tall in her corporate attire and displayed those sleek calves.
For someone who is always considered ultra stylish, Neha maintains that she feels no pressure whatsoever whenever she is expected – at times even commanded – to be fashion forward. "I enjoy it. It's like playing any game. Sometime you have good days and sometimes you have to face bad days. Most people pick up things from style magazines. But do you look like a model? No, you don't! So choose wisely and make your own style statement," she advised.
Can B-town men look sexy if they wax their legs, we asked Neha. "I just think men should not wax their legs. It's a bit of an oxymoron for me. We have seen John doing a stint in a movie where he pulled his trunks off, right? I think he deserves to be on the list," quipped Neha. But didn't Johnny boy show much more than just his legs? "I was focusing only on the legs. I wasn't not watching anything else, I am a good girl," winked Neha.
Chitrangda, who looked a bit uncomfortable in her knee-length beige outfit, gave the credit for her sexy legs to kick-boxing. In all these years we have seen the dusky beauty playing solid characters in off-beat movies and yet projecting a glamorous image. How does she do that, we wonder… "I think there's a disconnect between the characters you portray on the big screen and who you actually are off it. And women can be so many things at the same time," said Chitrangda. Ask her how she keeps radiating that elegance and the actor says philosophically, "I think it is happiness and being who you are."
And then there was Esha Gupta. The Jannat 2 beauty is considered to be India's answer to Angelina Jolie. The high cheekbones, the elegant lips and those curves make her a hot favourite. "I do yoga, pilates and dance to keep my legs in the shape they are," she said. And there she is again shaking a leg to the tune of Dhat teri ki – a fun party number from the new Imran Khan-Kareena Kapoor Khan starrer Gori Tere Pyaar Mein. "Oh, it was a wonderful experience. We shot that song over four days in Bangalore. It was hectic, but fun. The number is a big hit now," smiled Esha.

Watch the full interviews and tell us – who do you find the sexiest of the three long-legged beauties?