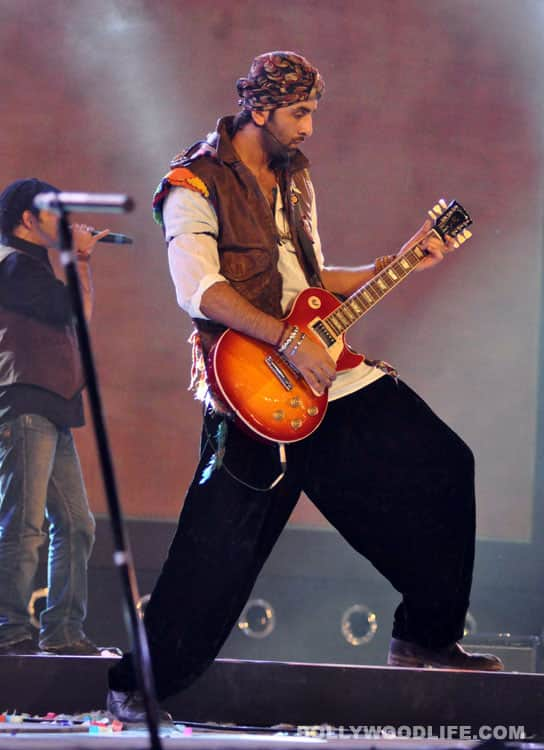 "Ranbir Kapoor would just jam in one corner," say Uma and Gaiti, the choreographers for Rockstar, who helped the young actor groove with absolute style
Uma and Gaiti for whom choreography extends beyond dancing, have earlier worked on movies like Karthik Calling Karthik and have also done a couple of reality shows. Hence when the duo were asked to choreograph Imtiaz Ali's Rockstar, they  gave their nod to the project without thinking twice, knowing that it's a music based film and there's very little scope for hardcore dancing. Of course, they are disappointed about not being able to make Ranbir Kapoor shimmy to their command, but then they stuck their noses to the grindstone and made the Kapoor dude look like a real rockstar by working on his body language…
Did you study any legendary rockstar's body language before taking on this project?
The director of the film Imtiaz Ali was very specific about what he wanted,
without giving any references. He didn't want us to copy Jimi Hendrix or
Aerosmith – musicians who have a peculiar style. The only brief given to us was that the boy is from Delhi and is a Jatt. We did it the way he wanted it to be and we happened to be on the same page most of the time.
What aspects of Ranbir did you have to study?
I don't think we had to study Ranbir at all. Rather, Ranbir looked really well prepared and in his character all the time. In fact, after meeting him we broke away from all the notions and references we ever had of him.
Remember any fun moments while shooting?
The shoot was so calm. There was absolutely no stress and pressure as such.
It was fairly balanced throughout. There were no low points and there were no high points either. About Ranbir – he would just go to one corner and jam. There was only singing and playing the guitar throughout and we loved the
experience…
Working on a reality show and choreographing for a movie are so very different. What's more gratifying?
They are all different experiences. For us even people walking on the
streets and bumping onto each other is choreography. I enjoy all aspects of
my profession. You need to unite the music with what the director wants and
it's like the camera dances with whatever you do. Reality shows are more staged and raw.  As far as Rockstar is concerned, me and Gaiti are very happy the way it's turned out. It looks very real.
Who would you love to choreograph in B-town?
I would say exactly the opposite of what other people say. Of course actors like Hrithik Roshan, Shahid Kapoor and Priyanka Chopra are great dancers and we would love to work with them, but if we get a chance to make someone move who the world doesn't know as a good dancer, that would be more fun and challenging.
Who's your favourite rockstar?
I am a Michael Jackson fan. He's not exactly into rock and stuff, but still, I'll give it to him…