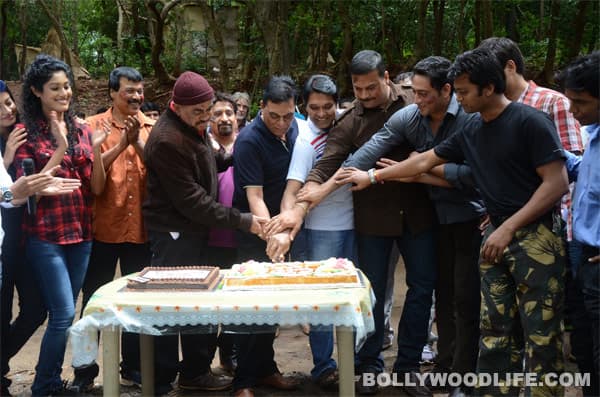 Sony Entertainment Television's long-running series CID completed its's 1000th episode on this Friday (September 27, 2013)
At a time, when serials bids adieu within months of its launch, CID has successfully completed 1000 episodes. CID has always managed to come up with innovative ideas to keep audiences connected to the series. The crime based thriller has been running for 16 years. The 1000 episode will have the CID team investigating on a dangerous island where their life would be on stake. Dr Salunke is on the run on an island as he is being chased by local tribesmen shooting arrows past him. As he reaches a thatch, he tries to radio a message but gets knocked down. Meanwhile, CID is looking for Dr Salunke. They realise that someone has attacked and kidnapped him! CID intercepts the message and figures out the location which points to middle of the ocean. The cops set there voyage on a boat but as they come close, their compass and radio stops working and they lose their direction. They find a man drowning at distance and Abhijit dives and manages to save him. The man, frightened out of his wits asks the cops to take him back as there is a dangerous island ahead on which no one survives!
The cops get to the island, find Salunke's blood and some wild animal marks. They also find bones ahead which points towards the presence of cannibals on the island. The cops determine that there is something wrong going on the island, they send one team over to the hill to catch the radio signal. The cops boat is blown off while the other team finds that there radio signal is blocked! CID is completely stranded from all sides and that's when they get attacked by burning arrows! Will they save themselves and Dr Salunke? Keep watching this space to find out more…
At the completion of the 1000th episode, the cast and the crew cut the cake and talk about their experience of being part of CID for 16 years.
Shivaji Satam (ACP)
I am overwhelmed with the response that the audience have given us. Completing 1000 episodes is really a great achievement for the whole CID team. I wish and pray to keep growing in the same flow and complete 1000 more episodes. Every episode was an enjoyable experience for me and I have gained a lot of popularity from this show. I love the entire team and congratulate everyone for their support.
Aditya Shrivastav (Sr Insp Abhijit)
It's a very good feeling. There are very few shows that complete 1,000 episodes and I feel really proud to be part of the show for such a long time. I have enjoyed every moment on it. It means a lot that people have appreciated this show. The love we get from our fans is incredible and over whelming. We hope to keep continuing to entertain our audience in the same way and every time give them something new.
Dayanand Shetty (Sr Insp Daya)
I am highly content that our show has managed to complete 1000 episodes. Not many shows can achieve this success and I feel honored to be a part of it. The success of this show lies in the hands of our entire team and the fans who have given us so much love and support. The whole journey was a wonderful one where I got to learn a lot from my senior actors and I hope that we keep entertaining our audiences for 1000 more episodes.
Narendra Gupta (Dr. Salunke)
I am feeling extremely content that our show has achieved such a big success, I would give credit to my whole CID team. I feel lucky to be a part of such a big show and glad to know that our fans are loving our work so much. I would especially thank our channel and the whole crew who have given us this opportunity to be a part of the show.
Anshaa Sayyed (Insp Purvi)
I give credit to our CID team; the entire cast and crew are responsible for this success. I am feeling really proud to be part of CID. It's really an awesome feeling of completing 1000 episodes. I am thankful to all my fans specially the youth, who are following our show so religiously. We are planning a celebration in the coming days.