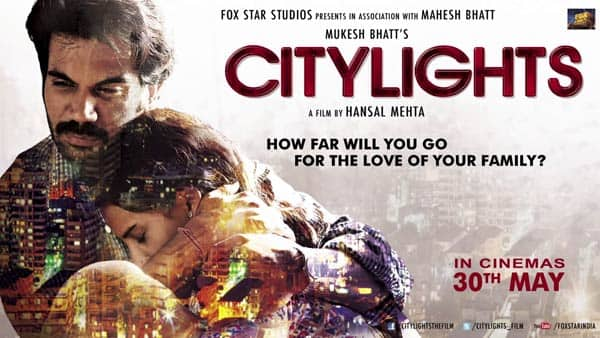 Shahid director has a knack of dealing with some of the deepest and darkest human emotions and taking us with him on a journey we might dread
In his latest offering CityLights, Hansal Mehta turns to his favourite protege Rajkummar Rao to narrate a story of love and longing in the city of dreams. Deepak Singh (Rao) comes to Mumbai from Rajasthan with his wife Rakhi (Patralekhaa) and daughter Mahi. With no job and no roof over his head, the city gives him a rude shock when a thug cons him under the pretext of leasing him a room.
Despite the odds being against him, Deepak believes his values and morals will give him an opportunity to earn a decent living in the city, however destiny has other plans for him. Rakhi turns to dancing in a bar to support her family as Deepak manages to find a job in a security agency trafficking boxes with black money and belonging of high end clients. What happens next and where the story takes these characters is where CityLights excels.
Performances by both the leads are exemplary. Rajkummar Rao has already established himself as one of the brightest faces to look out for. His performance is not only measured but also real to the point where we forget all his previous work or the many characters he played. Patralekhaa deserves a specious mention for making a stunning debut. Her eyes and body language convey depths of emotions no dialogue writer can reach. Music is in sync with the mood of the film.
However, the pace in the second half slackens and the story sort of hits a road block. Despite knowing the dark and gritty end to their journey there's always a hope for light at the end of the tunnel. Also Deepak's relation with his partner and superior at work could have been fleshed out in a better way.
CityLights is deep, dark and extremely depressing. But Mehta deserve full marks for going all the way and giving us a glimpse of the city's dark underbelly where dreams are often shattered and broken.
Rating:
out of 5
Reviewed by Tushar P Joshi
* Poor
** Average
*** Good
**** Very good
***** Excellent