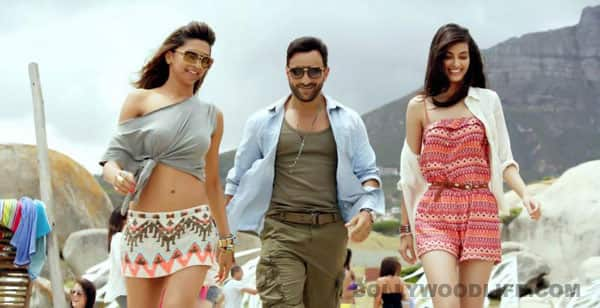 Music: Pritam Chakraborty
Lyrics: Irshad Kamil, Amitabh Bhattacharya
Singers: Benny Dayal, Shalmali Kholgade, Sunidhi Chauhan, Neeraj Shridhar, Kavita Seth, Mohan Kanan, Shilpa Rao
Rating: ****
Irshad Kamil and Pritam Chakraborty have been working together since 2007, producing hits like Jab We Met, Ajab Prem Ki Ghazab Kahaani and Love Aaj Kal. With Cocktail, Pritam experiments with '90s pop style, Punjabi folk, EDM and alternative rock to lace his contemporary Bollywood compositions.
The music in Hindi cinema has definitely become a big fusion box that borrows from every other genre. And it's definitely the cool, young thing to do.
A prime example of fusion in this album is the song Tera naam japdi phira, a mish mash of English lyrics, folksy tunes and loud techno beats, and yet it sounds like one of the safest tracks Pritam has dabbled with in this album – thanks to the use of very ordinary Punjabi lyrics and rhythms. Sung by Javed Bashir, Nikhil D'Souza and Shefali Alvares, it's the usual dance number that you make the most of while it lasts on the DJs' playlist. The remix version gets heavier, but not better.
Pritam is known for taking a cue (read copying) from European, Middle Eastern, Japanese, Indian folk and rock music (you name it!). This time he chooses to go with alternative rock for the track Yaariyan. It takes off with some cool drumming – a straight lift from British alternative rock band Coldplay's In My Place – and then continues to borrow from their popular song Yellow as it goes forward. The music arrangement is an obvious ripoff from the band's style of composition. The melody is good (and original!), with a sing-along quality to it, but the Coldplay hangover is too strong to get over easily. Lyrics like Tumse bhi zyada hongi ab yaade pyariyan, hum dono ki hai apni apni lachariyan express the fear and sadness of separation perfectly. Rock band Agnee's lead singer Mohan Kanan breezes through the number while Shilpa Rao joins midway and brings in a desi flavour with her alaaps. Good twist!
The Yaariyan reprise sounds more original, in comparison. This time Sunidhi takes over the reins alongside the piano as the song moves at a leisurely pace, allowing you to soak in the melancholy. Beautiful! I can't imagine any other singer carrying off this track with as much poise and strength as Sunidhi does. Then Arijit Singh steps in – his alaaps and harkats take the song to a new high. Sunidhi comes back in and picks up high pitch portions with masterly precision. The Yaariyan Reprise is definitely better than the first version.
Pritam scores when it comes to the two lighthearted songs in the album – Tumhi ho bandhu and Daru desi. The claps and drumbeats in Tumhi ho bandhu instantly transport you to a beach. Neeraj Sridhar is in his comfort zone, but it has become a little boring to listen to him sing similar kinds of songs in every film. The melody is catchy, but Kavita Seth's rendition is what adds a lot of depth to the song and makes it even more enjoyable. It's light and breezy, hip and fun.
The most hummable and catchy song on this playlist is definitely Daru desi. It brings out perfectly the feeling of being drunk and lost in the company of friends – fursaton me rahe, kaam ho naam ko. It's amazing how Irshad moves from the deep and meaningful poetry of Rockstar to simple lyrical expressions when it comes to Cocktail. Benny Dayal does a fabulous job in this song. The echo effect to his voice makes him sound groovier than usual. Shalmali Kholgade sings her second super song of this year (after Pareshaan from Ishaqzaade). She uses two tones through the song – one is soft and the other is bold and more out there.
A Punjabi folksy song supported ably by electronic dance music, Luttna has an interesting arrangement. Composed by Saif Ul Malook and Sahir Ali Bagga, the qawwali portions, followed by some disc scratching, make for good twists. The tempo keeps shifting and engages you in a dual between melody and heavy beats and dense electronic sounds, recreated by Pritam.
Things get interesting with Second hand jawaani. Kitsch and quirky, it pokes fun at item songs and at itself. Many have said that it's not an original, but this time the credits and licenses are in place – this one's not a Pritam product; it has been produced by Kray Twins, DJ Phukan and Saurav. Written by Amitabh Bhattacharya, phrases like ayi helicopter pe chadke jawaani, koodi parachute bina karke manmaani, teri band jawaani, and khudki khali taxi me kitne bithaye are cheeky lyrics. Neha Kakkar's rendition and expression is brilliantly entertaining, especially the way she emphasises the word 'band'. And that's what makes this number more fun to dance to!
There's still an ace up the musical sleeve here. The makers have decided to adapt one of the most popular songs on Coke Studio – Jugni. Sung by Arif Lohar and Harshdeep Kaur, this is an intense and passionate number. It stays true to its original version produced by Rohail Hyatt (sung by Meesha and Arif Lohar), except for the additional drum and techno beats. This track is just the perfect icing on the cake.
Irshad Kamil and Pritam always create magic whenever they come together. Except this time the duo gets more experimental, combining folk and techno, and giving alternate rock and EDM treatments to desi melodies with easygoing yet meaningful writing. This album has been worked on meticulously. It has been put together with the idea of creating new sounds and making them appealing to mainstream listeners (not just intellectuals). And it succeeds in doing so. This soundtrack has a fun, quirky and entertaining bunch of songs, without being massy. Listen and enjoy!