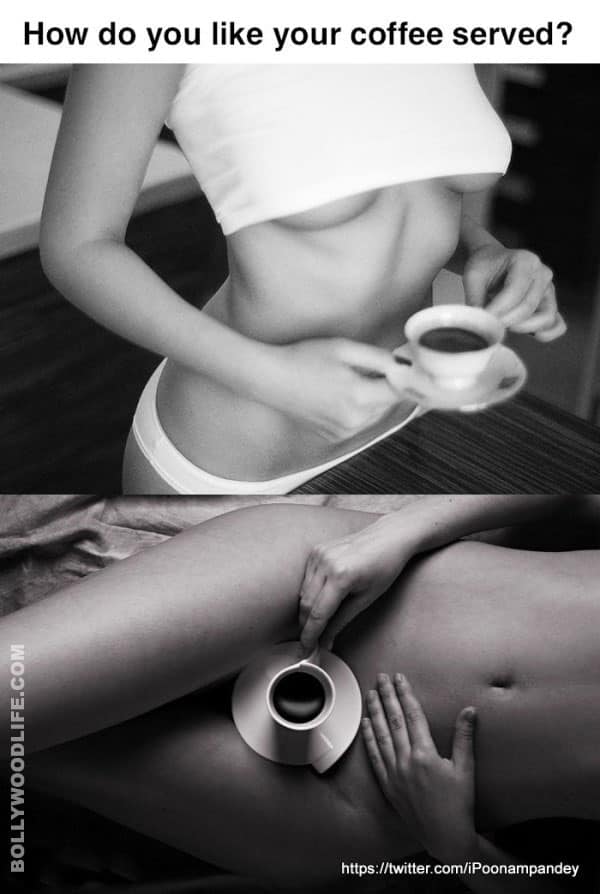 The babe continues to upload bare-all images, this time revealing…err…hiding her assets with a coffee cup
Karan Johar has every reason to feel the heat! His koffee kup is being usurped by a bootylicious babe, one with a lot less to lose – clothes-wise, that is – than the filmmaker does. Wannabe Bollywood starlet Poonam Pandey is giving KJo tough competition in the domain of serving coffee to guests. While every star aspires to be on the filmmaker's famous chat show Koffee with Karan, now every Tom, Dick and Harry will dream of drinking one-of-its-kind coffee with the sex-sational Poonam.
On Tuesday, Ms Pandey posted two pictures in which a coffee cup was strategically placed to cover her most private assets. The model posted the pic on Twitter and asked, "How do you like your coffee served?" The controversial babe did not stop there and chose to verbalise the real intention behind serving her special brand of coffee. "Besides my big boobs, it is probably my hourglass shape that is my best feature. I play off of that a lot," she tweeted.
Coffee with Poonam, anyone?