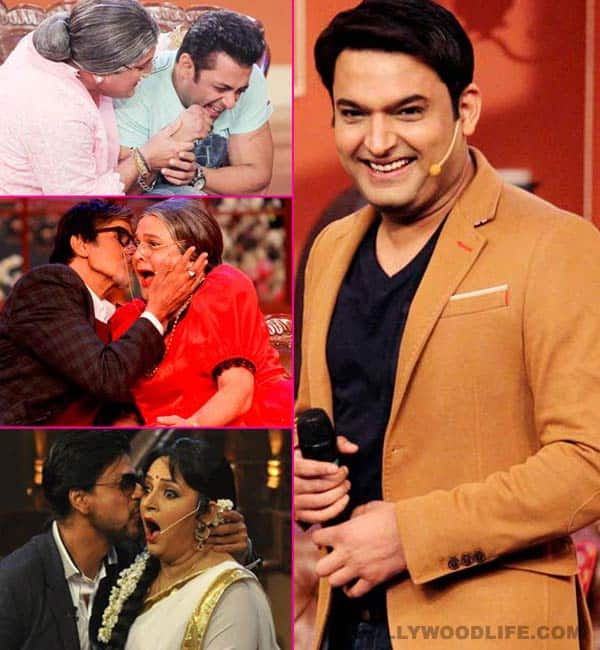 With the show completing its one year of successful run on television, we decided to celebrate by walking down the memory lane
Kapil Sharma's solo stint as a stand-up comedian on Comedy Nights with Kapil was an instant hit. Not only the comedy king, but the characters from his show Gutthi (Sunil Grover), Palak (Kiku Sharda), Dadi (Ali Asgar), Manju (Sumona Chakravarti) and Buaji (Upasana Singh) have all become household names today. Bollywood stars like Shahrukh Khan, Salman Khan, Ranbir Kapoor, Akshay Kumar, Deepika Padukone, Alia Bhatt have been vocal about their love for KS' rib tickling show. So, we at BollywoodLife decided to take you down the memory lane with Kapil, his housemates and stars of tinsel town. Here we've listed the seven most entertaining episodes and what makes them so special, take a look…
Shahrukh Khan, Deepika Padukone and Rohit Shetty: The busy bee SRK decided to make not one but two trips on Kapil's show during the promotions of Chennai Express. And Kapil Sharma and his fans relished every moment of SRK's presence and wit on the show. In his first stint on CNWK the superstar was accompanied by his director Rohit Shetty and Deepika Padukone and he decided to go solo during his second outing. Now, that's some serious fan following we admit. Even Dippy was seen enjoying all the attention showered by the flirtatious host Kapil Sharma. The Cocktail actor was laughing so much that she even got tears in her eyes.
Salman Khan and team Jai Ho: Sallu, Sohail Khan and new comer Daisy Shah were on Kapil's show to promote their film Jai Ho. This was one episode where our Dabangg star literally personified ROFL (Rolling on the floor laughing). Throughout the episode the star was seen laughing his guts out. What Karan Johar or any other celebrity host didn't manage, Kapil and his funny bunch did, they got Sallu to shed his guard and reveal his tickling patch to the world. Here, catch Sallu miyaan enjoying every moment of being on CNWK.
Amitabh Bachchan: Funny man Kapil Sharma was speechless on his own show, a first if we may say so. The Shehanshah of Bollywood certainly managed to silence Kapil, who leaves everyone in splits. While the comedian could hardly speak or do anything in Big B's presence his confused and anxious expressions did the magic. Revisit Amitabh Bachchan's effect on Kapil Sharma in the video below…
Alia Bhatt and Arjun Kapoor: This alleged couple didn't mind putting up a cozy appearance on the show, Amrita Singh enjoyed doing a role reversal from a crude mother-in-law in 2 States to a submissive daughter-in-law on the show. If not anyone else, then the stars definitely seemed to have enjoyed the show. Here's the video, have fun!
Shilpa Shetty Kundra, Harman Baweja and Raj Kundra: This episode seemed more of a party then an episode. It wasn't just KS, even the celebs were cracking jokes on each other. While Kapil was busy flirting with Shilpa, beau Raj was busy bullying the host. On the other hand, Harman's Bipasha Basu connect was discussed too. While the entire star cast had a blast, we enjoyed it too.
Sushmita Sen: The ex-Miss World hasn't lost her charm or wit. Kapil was gushing like teenager in this episode, after all it was his first outing with his first crush Sushmita Sen. And Sush didn't disappoint him as she continued flirting with the dashing host. One pyaar bhara episode this one was. And yes, Sushmita's aerial act was an icing on the cake. If you haven't seen it yet, here it is.
Sunil Gavaskar and Virender Sehwag: Cricketing legend Gavaskar along with the dashing Virender Sehwag were a stark contrast to their on-field serious avatars. After all this was a different ball game, hai na? They danced and cracked jokes and viewers got a slice of their fun side. Indeed, this one qualifies to be one of the most loved episodes.
CNWK which opened with rave reviews is the number one nonfiction show on the tube and continues to maintain it's Numero Uno position. The show began with shooting its first episode on May 21, 2013, while the first episode went on air on June 22, 2013. An excited Kapil Sharma posted on his Facebook wall yesterday, "21st may v started d journey of comedy nights with Kapil…when v started v never thought that v will get so much love. Its all coz of ur love n blessings for comedy nights that v have completed a successful one year.. V will try our best to maintain ur smile n laugh.. Keep watching n stay happy.. Love u all.."
We at BollywoodLife, wish Kapil Sharma and team CNWK a happy first anniversary!