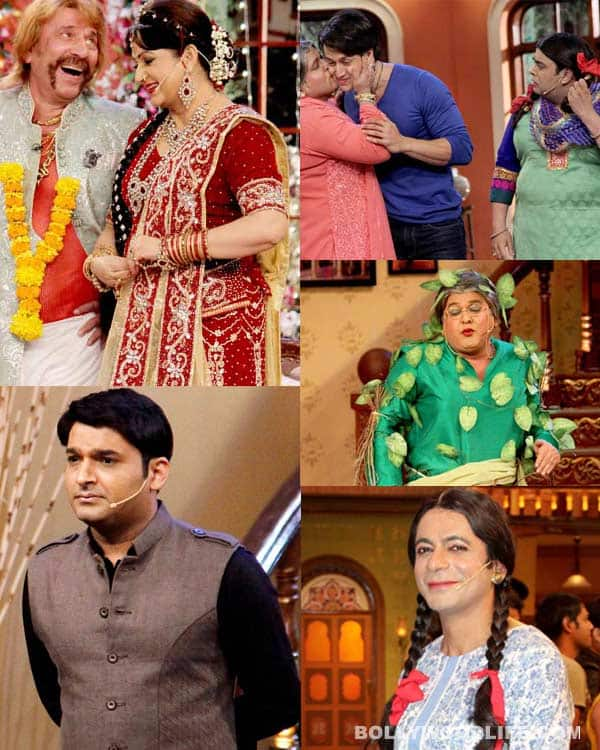 skip advertisement
taser-comedy-night-with-kapil
If at all there were iron thrones to be seated upon in the kingdom of comedy, Kapil Sharma would rule. With CNWK, Sharma has introduced us to characters that have literally made us 'laugh out loud' with their funny japes and will be fondly remembered for many years to come
So who will you choose as your favorite character on the show? Gutthi, Palak, Dadi or Pinky Bua? Might we add that the competition is tough but nonetheless a choice has to be made? Put on your thinking caps Bollywooflifers cuz' here they come…
"Juice Me!"- Gutthi
Although no longer a part of the show, Gutthi (Sunil Grover) is missed dearly. With her long piggy tails, mismatched chunni-patialas and white sneakers to complete the hideous yet hilarious attire, Gutthi with her awkward body language topped with witty one liners, made a mark on the show like no other. Grover went on to garner huge success through his stint and still continues to be in public demand with fans wanting him back on the show. Be it the intentionally disastrous and unbearably funny sense of rhyme in her songs starting with the patent line "Aap aye hain mere ghar mein" or her groovy "Gidda" moves, Gutthi was, is and forever will be a character which took humor to a level never seen before. We hope to see Sunil Grover back on the scene. What a comeback it will be!
"Mr Sharma, please talk to my hand!"- Palak
Oh she's got that attitude alright! Stout, fat and adorable, the overtly enthusiastic Palak (Kiku Sharda) is a bundle of joy and has an energy quotient which is hard to beat. Kiku Sharda as Palak has made his dancing skills, the highlight of the show. Be it the latkas and jhatkas, the robotics, or the signature style hip-hop, Sharda brings out the best of Palak when asked to shake a leg. His stint has made him one of the most popular faces of television today, to an extent where the upcoming season of Jhalak Dikkhla Jaa will feature him as Palak and not Kiku Sharda as a reality TV star. We are sure; he will nail it just like he always has on Comedy Nights with Kapil. We wish him all the best!
"Tu ittu sa tha….ittu sa"- Dadi
She is probably the only grand mom you will see, being this vocal about her drinking habits! Donning beautiful lacy suits, the famous white sports shoes topped with bright red lipstick, Dadi (Ali Asgar) does not spare anyone, when it comes to planting a "shagun ki pappi" on both the cheeks. Ali with his impeccable comic timing and signature dance step, has made Dadi one of the most loved grandmothers in India today. A homely figure with a pinch of masala, this Dadi is naughty and we love it!
"Bituuuuuuuuuuu…kaun hai yeh aadmi?!!"- Pinky Bua
She is hot, young and sexy. She is 'twaanty two' years old and is the bachelorette of your dreams. Or so she claims. A damsel in distress hoping to be wed, Bua (Upasana Singh) was forever seen awaiting her prince charming. But we recently saw her misery come to an end as she tied the knot with Golden Bhai and went on to live her happily ever after fairytale. Upasana has made the character popular with her heavy Punjabi accent, witty puns and a funny flirtatious vibe. Although seen performing on the show once in a while, we wish Bua would enlighten us with her charm more often!
Well peeps, it's time to get those voting fingers out again. You helped in electing our next government and now it's time to elect you favorite character! Stay tuned for the results…