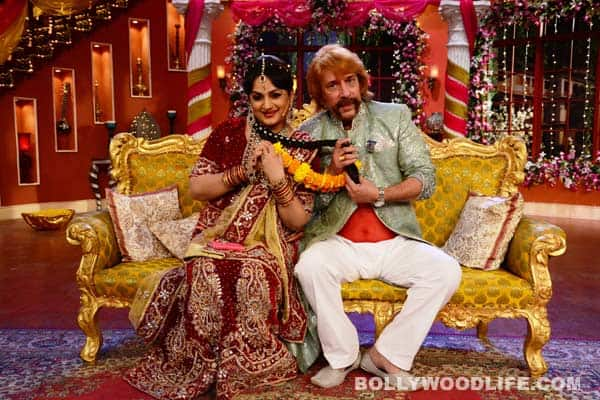 After a lot of waiting, Pinky Bua is all set to get married
The much awaited day in Pinky Bua's (played by Upasna Singh) life has finally arrived. Yes, after all the men that Bua has rejected, or has rather been rejected by, she has finally found her soul mate. Her knight in shining armour, her Prince Charming is none other than Golden Bhai, which will be played by famous comedian and Bollywood actor, Razzak Khan. He will be seen falling head over heels in love with Bua. And it looks like Bua will never have to say, 'Bitu, Kaun Hai Yeh Aadmi' ever again.
If the recent reports are anything to go by, then the makers of Kapil Sharma's popular show, Comedy Nights with Kapil are going to make a lot of hype about bua's marriage and will mark the occasion with a grand celebration. And as we had told you earlier, the Shaadi Ke Side Effects co-stars – Farhan Akhtar and Vidya Balan will also be a part of this celebration.
It's a no brainer that Pinky Bua is on the seventh heaven now. "Finally after rejecting over hundred boys in the show my character is getting married. I have finally found my dream man, my prince charming in Golden who will be played by Razzak Khan. He is an amazing actor and a great comedian. It's been an amazing journey on Comedy Nights with Kapil and everybody has really loved my character and my patent line. I hope people continue to shower their love on me even after my marriage," says Upasna, who plays the character of Bua.
Razzak on the other hand, also is elated to be a part of the funny ha ha series. He says, "It's great to be a part of the show, especially as Pinky's husband, Golden Bhai. She is hot, she is sexy and I'm absolutely in awe of her. I feel privileged that she chose me over the rest including actors like Salman Khan, Shahrukh Khan, Akshay Kumar among others. It's an honour to be working in this show with the talented King of Comedy, Kapil Sharma."
We don't know about you, but we surely can't wait to catch this special episode. Ohh… and we would like to congratulate Pinky Bua and Golden Bhai. We wish the newly wed couple a happy married life.