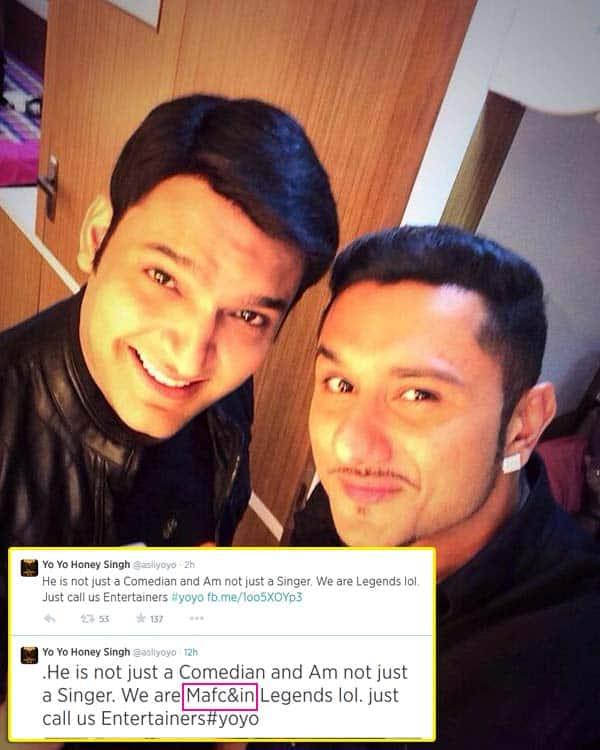 The popular rapper, who recently visited the sets of Kapil's popular show abused the funny man on Twitter. But why?
Yo Yo Honey Singh shot an episode with Kapil Sharma today for the latter's popular show, Comedy Nights with Kapil. And looks like the popular rapper had one heck of a time with Kapil and his crazy family. But soon after the shoot came to an end, India's rap badshah tweeted something very abusive about the funny man. Wondering what are we talking about? Well the story goes something like this…
As you will know, Honey Singh, who has made several B-town celebs including Shah Rukh Khan, Deepika Padukone, Sunny Leone, Amitabh Bachchan and Akshay Kumar dance to his tunes, is not only famous for his rap numbers, but also for his colourful language. His several hit songs are a proof of it. So he gave us a sneak peek to his colourful personality by putting up a tweet where he called Kapil a Maf*&in legend. And apparently this angered the fans of Kapil, after which the Lungi dance singer censored his own tweet by posting another one minus the abusive word.
However, let us tell you that while many people might think it's offensive, this is a very common phrase that rappers used around the world. Honey Singh being no different.
So while Kapil's fans got a bit offended, we hope that the stand-up comedian isn't.