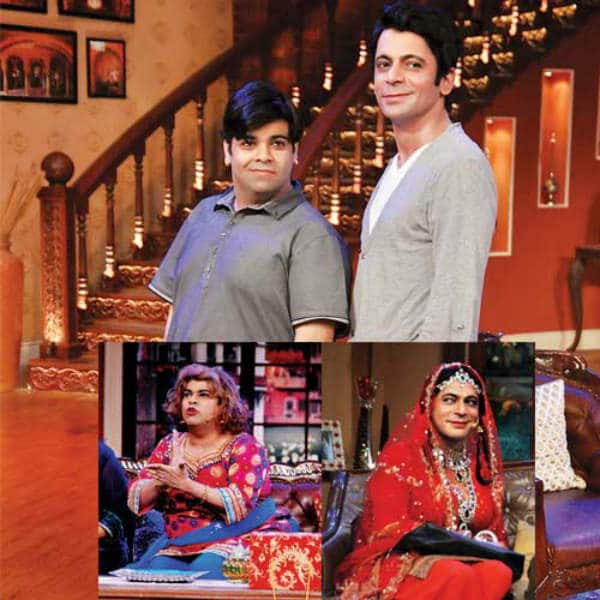 One of the most popular shows Comedy Nights With Kapil (CNWK), apart from the host has many other characters who play his family
There is dadi (Ali Asgar) Pinky bua (Upasana Singh) and the two neighbourhood girls Gutthi and Palak, who have become important entities of the show. Interestingly, the roles are essayed by two men Sunil Grover and Kiku Sharda.
Sunil Grover is best known for his spoofs on Shahrukh Khan's shows Kya Aap Paanchvi Pass Se Tez Hain and Kaun Banega Crorepati (hosted by him). He was also part of India's first silent comedy serial Gutur Gu. Now he plays a small-town girl Gutthi on CNWK. The tall and jazzily dressed Gutthi is completely over-the-top and unabashedly flirts with all the heroes that appear on the show. She even proposed and married Ranbir Kapoor on stage and left him bemused!
Kiku Sharda is synonymous with constable Mulayam Singh Gulgule in FIR, he is equally popular as Gutthi's sister Palak in CNWK. Chubby and cute, Palak gatecrashes into Kapil's house whenever there are guests (read celebrities) and goes on to showcase her talent by narrating jokes, poems and monoacting. And when Gutthi and Palak get into the act together, they are a riot! A tête-à-tête with the two men, who have become household names as Gutthi and Palak…
Did you have to be convinced to dress as women in every show?
Sunil Grover: Initially, I was supposed to play multiple characters in the show. Gutthi was one of them, but she clicked big time. People started loving her and so we started repeating her in the interview portions. And now I play only Gutthi. I have played a woman earlier so I didn't need to be convinced to don a woman's role, either in this show or the previous ones. I had conviction in the character at the show level itself.
Kiku Sharda: I am an actor and I have no reservations about playing any character including a woman. I have played a woman, even essayed Lata Mangeshkar in one of my earlier shows. I do it voluntarily.
Do you feel that you as actors won't get due credit because you won't get recognised?
SG: Surprisingly the audiences recoginse me as Sunil Grover. That is probably because I have been around for some time. There is a new audience too, but they know that a man is playing a woman's role. The other day when I was walking on the road, one guy pointed at me and said, 'Dekho Gutthi stubble aur beard mein hai!'
KS: Woh feeling hamesha hoti hai, when you are being someone else. However, because of my physique (being on the healthier side) people recognise me. If I was a rank newcomer, it would have been different.
How long does it take for you to get into costume?
SG: It takes me 20-25 minutes. However, now I have a lot of respect for women — for the unnecessary things they wear like lipstick, make-up, jewellery. Also, I have to add on a couple of other things as well, as I don't have what women are blessed with. Being a man is so easy!
KS: It depends on the get-up. For instance, I had donned Madhuri's costume from the Ek Do Teen number (Tezaab), which was quite complicated. It took me an hour to be ready!
How does your family react to you playing a woman?
SG: It doesn't matter to them as long as I am functioning as a man! They know I am an actor and take on different characters.
KS: I have a niece who doesn't like her chacha playing a woman. Palak is in the cute zone and my wife is pretty cool about it. The common reaction is: though he plays a girl, he performs so well.
Do your friends rag you?
SG: They don't rag me but sometimes introduce me as Gutthi and ask personal questions about her!
KS: No, I have a lot of actor friends, so they are okay. Recently, Gaurav Gera, a good friend of mine played a woman throughout the serial Mrs Pammi Pyarelal.
How much of your acts are improvised?
SG: There is a set structure but we improvise a lot. For instance, the introduction to Palak's character was improvised on stage. I had to introduce her so I did this Palak-Gutthi-Kapil thing which caught on and I do it in every episode now.
KS: As Sunil said, a lot of it is improvised. When Akshay Kumar came during Once Upon A Time In Mumbaai, Gutthi and I were supposed to be on stage for 10 minutes only. But Akshay chipped in and we did everything from dance to martial arts. We ended up being on stage for half-an-hour!
Do you rehearse with the actors before hand?
SG: We rehearse the gag, but not with the actors. Only 20 per cent of the time we share with them what we are going to do. The idea is that they should have fun. Also, they are all experienced and react impromptu, which is why the result is even better.
KS: Sometimes we do and sometime we don't. Only when we need them to say some of the punch lines in the middle of the act, do we rehearse. The actors are now aware that weird characters will come on stage. In any case, most of the time we are performing — hum acting, jokes or poetry karte hain — and they are watching. So, they react genuinely.
Do you ever sense an actor's discomfort because you are guys?
SG: On the contrary they are rather comfortable. They can say things that they cannot say directly to a woman — you know what I mean! With us they have more options and can target both man and woman.
KS: Not at all. They are all experienced actors and may themselves have played a woman in one of their films.
How is your rapport with Pinky bua and Sumona Chakravarti, who are the only women in the show?
SG: Both of them forget we are men and include us when they are bitching about other actors! I enjoy it.
KS: The rapport with everyone is fantastic. However, everyone forgets we are not originally women. The funny thing is women celebrities who come on the show don't mind coming close to us!
How is it backstage while CNWK is being shot?
SG: It's a great team and we share a good rapport. Even while rehearsing, we laugh a lot. We eagerly await the next shoot dates.
KS: It's a fun zone, but a lot hard work is going on. Writers, director, in short everyone is running around to create the best gags. Sometimes we shoot in the morning between 3 and 4 am and the audience is dozing off. Kapil gets the drums and starts singing to wake them up. Hats off to to him — it's a pleasure to work with such talent.
Does it affect your ego that Kapil Sharma is the face of the show?
SG: Kapil masters the zone of stand-up comedy. I was needed to play various characters and I happily did that. Also, since it's Kapil's show there's no pressure on me. Moreover, I like his work, so I get paid to watch him compulsively!
KS: Kapil deserves all the popularity on the show. I am an actor and I appreciate good things. I feel honoured to be a part of his show.
Who is actually the funniest person on the set of the show?
SG: It depends on the moment. I think all are funny. Actually, I look forward to meeting this spot boy on the sets. He is the funniest and of course, Kapil. Even the director and associate director are funny.
KS: The writers are so funny that sometimes you laugh even at the bad jokes. When the writers and Kapil are talking something funny comes out.
If you could change one thing about the show, it would be?
SG: I would like to increase the duration of the show. I wish it was longer at least two-and-a-half hours.
KS: Nothing. It has a correct blend of everything and the right team.
Photos & Story: DNA