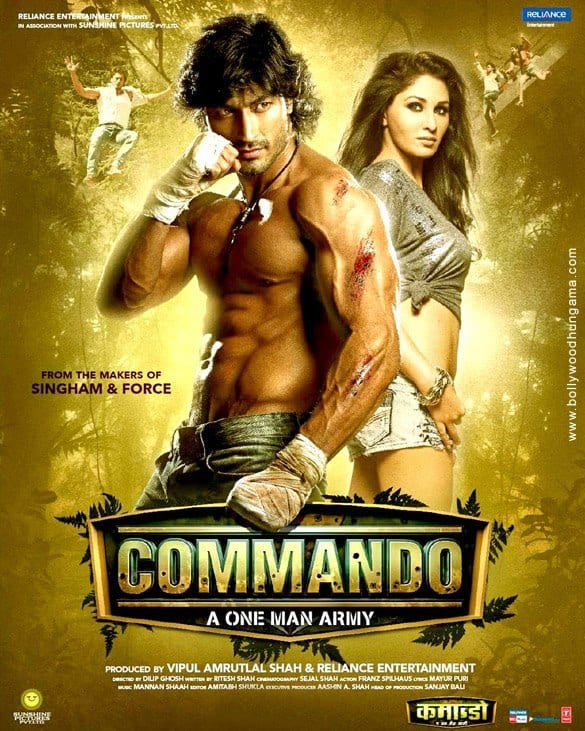 Vidyut Jamwal's action prowess and Gangs Of Wasseypur dude Jaideep Ahlawat's thespian skills make for a deadly combination
Vidyut Jamwal is where all the action is in Vipul Shah's Commando – A One Man Army. He is one juggernaut in the film – crushing the hell out of every gunda, leaving them on the brink of unconsciousness. Pooja Chopra's role as a blabbering, full-of-life Punjabi chick seems like a rip-off of Kareena Kapoor's character, Geet from Jab We Met. The girl surely knows how to act, but the comparisons are evident since there have been several offshoots of Geet and this seems to be just another one – albeit with a bit of voice modulation, it could have been way better.
The film starts with Vidyut (Captain Karanvir Dogra) being tortured by a posse of Chinese Army officials who suspect him to be an Indian spy. As a routine flight journey from India ends up in a miserable accident and the wreckage is nowhere to be found, Vidyut finds himself amongst these suspicious men in uniform who make life a living hell for him – from beating him with a baton to tying a bagful of ice around his neck and punching him till the rocky ice cubes form a design of blood on his face – they do it all ruthlessly. While the dishy hunk, his steel bod and his iron will take it all in its stride, the Indian government doesn't seem very co-operative. They are willing to give up on this strong and talented commando only to save themselves the trouble of fighting a tiresome battle with China. And that's how stems the hatred for a corrupt system in VJ's head. The stunt specialist that he is, it obviously doesn't take him much time to escape from the clutches of those Mandarin speaking dudes.
While Karanvir – the killer hunk – is on the prowl, a new challenge comes his way. Punjabi kudi Pooja enters the frame – dramatically pointing fingers at the villain (Jaideep Ahlawat) and refusing to be putty in his hands. Jaideep is a renowned thug who is a terror in the city and by the virtue of his evil mind has formed a vicious network with dishonest politicians and crooked cops. His heart is set on the gutsy babe Pooja, and he's hell-bent on marrying her. But Pooja is not the sacrificial cow – she elopes and bumps into the strong and sturdy arms of Mr Jamwal who's out there to protect her from practically everything – bloodsucking mosquitoes to backstabbing baddies.
We are only praises for Jaideep (AK47) here – an FTII product – he restores our faith that Bollywood does give a golden chance to good performers. The signature style of making him have white eyeballs to bring out his macabre side to the fore is deadly. He carries out every sinful operation with great élan – and the theatrical finishing touches he gives to his act is like tasting a well-made dessert after feasting on a scrumptious main course.
We love the locations – the fabulous foliage of Punjab and the clear water running through the streams – giving all that action the much needed soothing effect. Shot mostly in the jungles, the film captures the dhamakedaar action sequences perfectly in the lap of nature.
Our only gripe – why can't Hindi films look and feel a tad more realistic? Why does a heroine have to look like she is carrying a huge make-up set with her even when surrounded by danger and daggers? What's with the fresh, just taken a bath look in the middle of a godforsaken jungle?
Vidyut – the real life Kalari expert that he is – obviously impresses us with all those mind-blowing stunts. He said in a recent interview to us that he was born to do action, and we won't consider that overconfidence anymore. He is a prepossessing package, and among the many scenes – we love the one in which he tears across the poster of John Abraham's Force (also his own film), indicating that he has just arrived and there's more to come. While the action is an absolute delight to watch, the film is full of platitudes.
Watch Commando for its riveting fight sequences, some major eye-candy (read: VJ's bod) and an entertaining performance by Jaideep.
Director: Dilip Ghosh
Rating:
out of 5
Reviewed by Deboshree Ghosh
* Poor
** Average
*** Good
**** Very good
***** Excellent