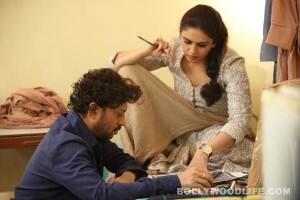 The Nikhil Advani film is an action-packed spy thriller
When the first look of Nikhil Advani D-Day was launched, we were only excited about Rishi Kapoor's look as the dreaded underworld don Dawood Ibrahim in the film. The rest of the cast seemed to pale in comparison. However, the freshly launched trailer made us take notice that Rishi is only a piece in the exceedingly violent puzzle. The rest of the cast including Irrfan Khan, Arjun Rampal and Huma Qureshi too seem to be on top of their game.
Irrfan Khan plays an Indian spy living in Pakistan for nine years, who is activated after an increasingly violent terrorist attack in India. His job is to capture the dreaded don Dawood Ibrahim who is believed to have a part to play in the attacks. His fellow Indian spies Arjun Rampal and Huma Qureshi are shipped off to Pakistan to begin the dangerous mission that has a lot more than their lives on line.
Although the trailer drags on for three minutes with one violent incident after another, we're sure that those among you who like their gore served to them fresh and hot, would really appreciate this action-packed flick. Watch the trailer and tell us if you like the look of this spy thriller.