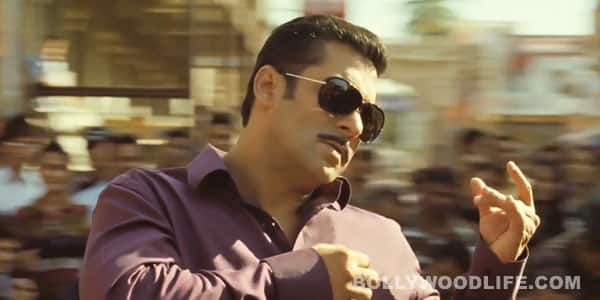 Chulbul Pandey is known to insult people with a smile on his face and acid in his words. Remember the chhed wala dialogue in Dabangg? So are the one-liners in the sequel equally good? Read on to find out!
Two actors – Salman Khan and Prakash Raj – who are known to crack us up with their witty dialogues delivered poker faced, will be seen sharing screen space in Dabangg 2. But is that reason enough to expect moments that will make us double-up with laughter in this sequel? If you look at the dialogue promos, you would say, not really.
Yes, there's no doubt that the writers wanted it to be funny with a capital F, but somehow the magic punch is missing in Dabangg 2. Salman rattling off Bachcha Bhaiyya's introduction down to the size of his underwear is strictly okay, a bit too long, even. Sonakshi Sinha taking a dig at Pandey jee's seeti also didn't match up to the 'thappad se darr nahi lagta, sahib…' dialogue. Remember that one from the original? Though the dialogues here did make us smile a wee-bit, we would say, nothing extraordinary.
So while Dabangg 2 dialogues are a tad disappointing, they still might deserve a chance. So go ahead, take a look and tell us what's your take on these promos?