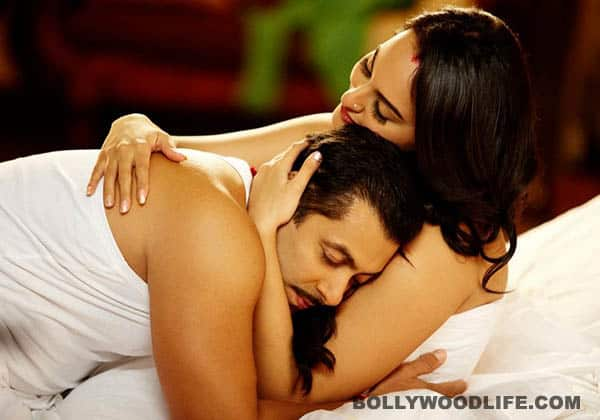 Thanks to Salman's antics, a very predictable Dabangg 2 becomes entertaining, but only in parts. Read full review…
Explaining the plot of Dabangg 2 is easier than making morning tea. So here's how it goes: Chulbul Pandey (Salman Khan) has now moved to a bigger city – Kanpur in Uttar Pradesh. A school boy is abducted by goons and needs to be rescued. Enter Chulbul Pandey (his bulging tummy is hard to miss; perhaps a sign that he is now a happily married man!) and a long fist and gun fight ensues. A chubby Chulbul saves the day. He takes the money from the rich father of the kidnapped boy and donates it to the police fund and to his personal charity, establishing the fact that he is truly Robinhood Pandey. Cut to the title song.
Chulbul and Rajjo (Sonakshi Sinha) continue to be totally in love after marriage and sing love songs on the streets once again. Enter a mean looking villain – Bachha Singh played by Prakash Raj – a goon taking his first step into politics. Chulbul makes sure he does not let Bachha continue with his do number ka dhanda. An enraged Bachha sends his bro Genda (Deepak Dobriyal) to threaten Sallu's daddy (Vinod Khanna) who is now happily living with his beta. Despite the threat to his family Chulbul continues to be Dabangg and bumps off Genda to save a girl's life. Bachha decides to kick his political ambitions and avenge his brother's death. He attacks Chulbul's pregnant wife and brother Makkhi Singh (Arbaaz Khan). Rajjo loses the baby, and Makkhi conveniently survives a bullet. Being a Dabangg wife, Sonakshi tells his pati to kill Bachha. Cut to the climax – a larger than life action sequence ( and not without Salman's shirt coming off) and the villain is defeated! The End.
As is obvious by now, Dabangg 2 is too predictable. In fact, the plot is thinner than Malaika Arora Khan's waist! The subplots that explore Chulbul's relationship with his wife, father and brother make you wonder where the film is going. Their purpose is to add an emotional quotient to the movie, but there are far too many subplots and they slow down the pace of the film. Post interval, you constantly wait for something to happen, something to jump at you or surprise you, but when a development does come, it's too late and too lame.
Case in point: A pregnant Sonakshi rolling down the temple stairs while Arbaaz is being held back by the goons. This scene has been used in too many B-grade movies to be taken seriously.
Since the script is weak, director Arbaaz Khan relies on action sequences and cheeky dialogues to do the trick. But that gets too repetitive by the end of it. The production values dip on many occasions – the CGI effects in all the car driving scenes look straight out of the 80's when technology was not available. The direction is sloppy on several occasions.
Sonakshi has more to do in this sequel and she does a decent job of it. Arbaaz appears and disappears at will and makes no impression. Vinod Khanna gets a chance to show off his acting skills after a long time and he proves that he is still a formidable actor. The one person you feel bad for is Prakash Raj. The actor is getting typecast and he has nothing new to offer in this film. Dabangg 2 definitely needed a more menacing villain to make Chulbul look stronger.
Now for the few good things. Most of us will watch Dabangg 2 only for Salman and yes, he keeps up the good work and continues with his antics. But he doesn't get enough support from brother and director Arbaaz, who fails to recreate the magic of Dabangg which was a potboiler with a complex and pacey storyline and loads of punches. Chulbul had many more challenges to deal with because of the differences with his father and brother. In the sequel everything's way too hunky dory and Chulbul is just having a field day.
Some action scenes are well choreographed, but get repetitive after a point. The few entertaining portions come in the form of Chulbul's dialogues with his enemies and his interactions with his fellow police officers. Here I must add that a rather stubby looking Salman is in the company of older inspectors and hawaldars, and this could have been done in a bid to make him look younger and cooler. And that's really not cool! Sallu needs to get fitter if he intends to continue doing action movies.
Dabangg 2 might bring in the moolah, but may not succeed in winning the audiences' heart the way Dabangg did. So watch it for Salman if you must, but be ready to be disappointed. I suggest you settle into your couch and catch the first part once again on television instead!
Rating: 2.5/5
* Poor – Avoid!
** Average – Give it a shot if you are desperate!
*** Good – One time watch!
**** Very good – Must watch!
***** Excellent – Don't miss!