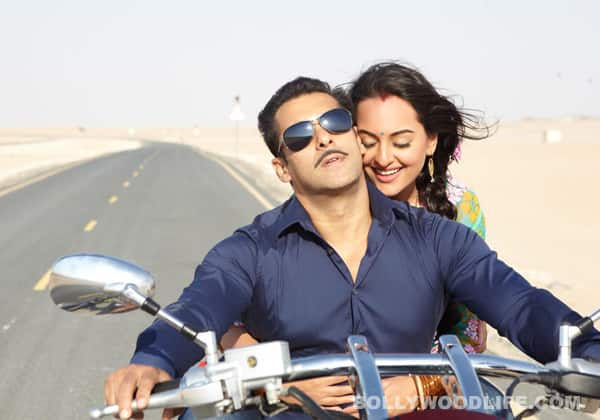 Chulbul Pandey sets off on a long ride on his bullet with his pyaari biwi. But how romantic does it all get?
Salman Khan, who plays the role of police inspector Chulbul Pandey, is a tough cop with a mushy, romantic heart in Dabangg 2. And while we see oodles of action on one hand, there's romance dripping from the moments that he spends with his wife Rajjo Pandey (Sonakshi Sinha). And Sanso ne is one such song where the husband and wife are out on a date.
It with begins with a long bike ride through the dried and sandy terrains of UAE. As the scenes meander through gift and cake shops to a swimming pool – no, you won't have the liberty to see Sonakshi in a swimming suit here 'coz she steps into the pool in a sari – the tune and lyrics of the song remind you of the mush of the 90s.
Sanson ne is written by Irfan Kamal, sung by Sonu Nigam and Tulsi Kumar.
So what are you waiting for, peeps? Go ahead, take a look at this romantic number and tell us what you think of it!
[jwplayer mediaid="168895″]