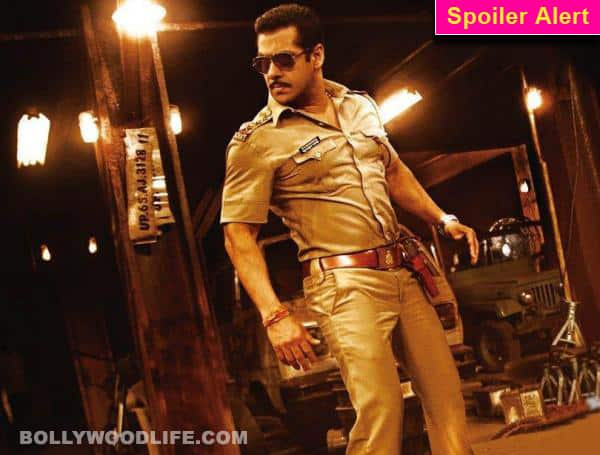 In a recent interview the Being Human actor revealed a teeny-weeny bit of the climax of his new film. So what's the end going to be? Read on only if you wish to know!
When Salman Khan was in candid confession mode, perhaps he revealed more than he should have. So what did he say? While talking about the Chulbul Pandey of Dabangg 2, Sallu said, "Pandeyji is now a father, the head of the family. He is in a good space. But then comes an emotional jhatka – and he goes back to being the old Chulbul Pandey." Whoa! That means a tragedy is lurking just around the corner.
So what could go wrong now? We hear that Bachcha Bhaiyya (Prakash Raj), who is the brother of late villain Chhedi Singh (Sonu Sood), comes back to take revenge for his bhai's murder. And Dabangg 2 is probably all about this. So we pretend to be sadistically proactive and predict all the possible climax scenarios:
Climax 1
Bachcha Bhaiya (BB) convinces Mrs Rajjo Pandey to have an extra-marital affair. And when Chulbul finds out about his wife's sorry doings, he kills both BB and Rajjo. Then goes back to being the sad self he was in the beginning of Dabangg.
Climax 2
The villain kidnaps Chulbul Pandey's only son and demands an obscene amount of money. And after Robinhood Pandey works hard to accumulate the ransom by doing odd-jobs, vasooling bribes by taking advantage of his khaki vardi and sometimes by being part of the local nautanki, Bachcha Bhai kills the child. Tch tch! Rajjo dies of grief and in a fit of rage Chulbul kills the villain and goes back to his sad beginnings.
Climax 3
And here's the last alternative. Bachcha Bhai lures Chulbul's seemingly innocent and duh-like bro Makhanchand Pandey (Arbaaz Khan) for another terror attack where Makkhi poses as a suicide bomber and visits Pandeyji's house for dinner. The entire Pandey house including the wife, son, dal, roti and Chulbul's khaki vardi is blown away. Although Robinhood Pandey is saved, he suffers from a head injury and memory loss. All memories of his former married life are wiped out of Chulbul's head and our hero finds himself right at the place from where he began in Dabangg.