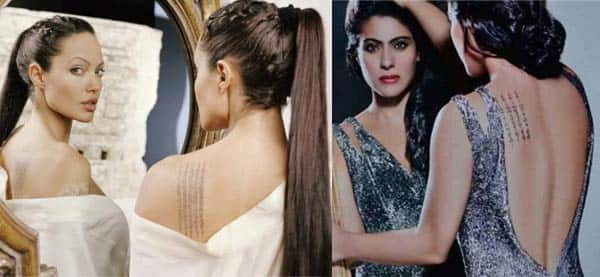 Kajol's latest photoshoot for the ace photographer is hot, no doubt. But is it original?
One look at Kajol's shot from Dabboo Ratnani's 2014 calendar and we were hit by a sense of déjà vu. It's not something Kajol has done before but someone else has. Hollywood celebrity Angelina Jolie had posed similarly in one of her photoshoots. So, what is similar you ask? Well, both Kajol and Angelina are staring intensely at the cameras through a mirror. While Kajol is pulling back her hair with her hand, Jolie's hair is pulled back in a ponytail. But, the most copied part of the image is the fake tattoo sported by Kajol, which looks like a very bad imitation of Angelina's tattoo. While the Hollywood actor's tattoo is a meaningful Buddhist inscription, wethinks that Kajol's mock tattoo is plainly meaningless.
What surprises us even more is- though Jolie has a sexy back, she's barely flaunting it. But Kajol is showing off her chiseled (aka photoshopped) back in a backless dress. Thankfully, Kajol isn't trying to ape Angelina's pout too! Kajol is quite an Indian beauty, blessed with curves and pretty facial features, no? Then why be a copy cat? We wonder why B-town celebs copy the tinsel townies to look gorgeous and sexy. We're sure Kajol would've looked way better if she'd stuck to being original rather than copying this Original Sin actor. What do you think, BollywoodLifers?