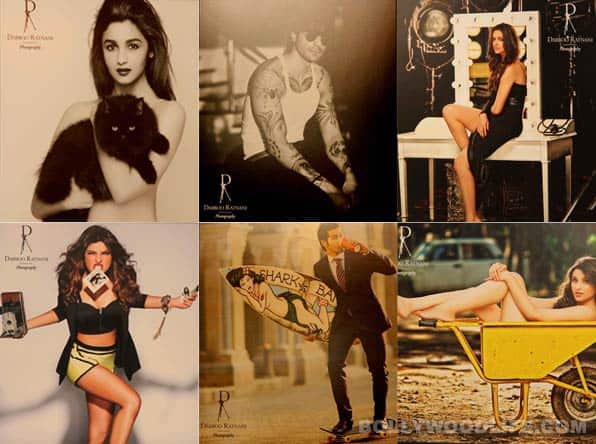 skip advertisement
The ace photographer's famously sexy calendar is out. And boy, he has impressed us yet again!
We don't know how Dabboo Ratnani does it. Every year he makes B-town's heartthrobs Shahrukh Khan, Deepika Padukone, Priyanka Chopra, Katrina Kaif and so many others look appealingly hatke in his calendar. We're sure you will agree with us on this one! The hunks for 2014 are Shahrukh Khan, Salman Khan, Ranbir Kapoor, Hrithik Roshan, Abhishek Bachchan, Ajay Devgn, Arjun Rampal, Varun Dhawan and Sidharth Malhotra.
And the list of glam girls includes Aishwarya Rai Bachchan, Alia Bhatt, Anushka Sharma, Bipasha Basu, Deepika Padukone, Kareena Kapoor, Khan, Katrina Kaif, Parineeti Chopra, Priyanka Chopra, Sonakshi Sinha and Vidya Balan.
The new year has just begun and temperatures are already soaring high. Dabboo has done a great job with all his subjects. Though all the stars are shining hot in the shoot, some glow brighter than others with their sexy, quirky poses. There are those who made us drool, those who managed to impress us and those who could've done better. Here's the list…
Droolworthy calendar hotties: Alia Bhatt, Bipasha Basu, Deepika Padukone, Parineeti Chopra, Priyanka Chopra, Sonakshi Sinha, Arjun Rampal and Varun Dhawan are certainly the sexiest of the lot. Alia posing with a black cat looks so hot and yet so young and naïve. And we loved how the cat covers her modesty while allowing a certain amount of skin show. We're complete fans of Bipasha's studded jacket and leather boots…. and how she flaunts those legs that never end! She's so picture perfect, from the hairdo to the clothes and accessories.
Deepika is one of those lucky girls who looks good no matter what she wears. Frankly, her hairdo isn't anything extraordinary and neither is her outfit. But the mysteriously pained yet oh-so-seductive look in her eyes keeps our eyes glued to her. Parineeti is generally the one who sticks to conventional looks, but this once she has won our collective heart. She has dared to bare with quirk, sprawled in a yellow wheelbarrow – we love it! Pari's cousin Priyanka is at her wildest. It looks like she's screaming to break free and her curves, her pout and her toned legs whisk away our attention from all the others. But the most stunning is Sonakshi Sinha – boy, is that really Sona, we wondered for a moment. The leather jacket, dark-painted nails and earcuffs, add to her Gothic look. We've never before seen the Dabangg girl look so fabulous! And gazing into her kohl-lined eyes, we feel like singing Tere mast mast do nain…
Of the boys, we loved Varun's photo. He is all suited and booted, but is posing on a skateboard, holding a surfboard. He looks so naughty and yet so serious that we can't label him either the bad boy or the good boy. Arjun Rampal is as hot as hot can get, posing with an inked body flaunted in a vest. OMG, Arjun, how do you look so tempting always!
Impressed us, but not completely: Aishwarya Rai Bachchan, Anushka Sharma, Hrithik Roshan, Katrina Kaif, Shahrukh Khan and Sidharth Malhotra. The only reason Ash fit here is 'coz of her mesmerising eyes. The way she's staring out of the pic – it's so real that she makes us go weak in the knees. But after all the titles and awards that she has to her name, she could be a better poser, no? Anushka looks superb in those tiny shorts teamed with stockings, with a short top. Flaunting her midriff, this babe looks charming, but then again, she could have struck a sexier pose. The Greek God of B-town, Hrithik Roshan is pulchritudinous, no doubt, but why such a close-up shot? If not for that tattoo, we wouldn't have known it's the Krrish 3 actor. When you have it, you should show it off and Hrithik has it all – a hot bod and perfect features – so why such a boring shot? The Dhoom:3 babe Katrina never ever experiments; one glance at her picture and, well, it's so Kat! Student of the Year actor Sidharth Malhotra looks handsome while flaunting his chiselled abs and sinewy body…not bad! And then there is the king of Bollywood, Shahrukh Khan. We heard that he was very pleased that he only had to lie on satin sheets for the calendar shoot. Sadly, pleased we aren't! If it wasn't for those studded shoes that he wears, he wouldn't have made it to our 'impressed' list at all. He looks quite inviting lying on the bed with his shirt unbuttoned, but he could've dumped the cigarette, for once…
Could've done MUCH better: This list includes Abhishek Bachchan, Ajay Devgn, Kareena Kapoor Khan, Ranbir Kapoor, Salman Khan and Vidya Balan. Dhoom:3 actor Abhishek is seen in an all-white avatar, posing against an old car. Ummm, nothing extraordinaire. With a tall figure like his, he could've had girls falling over him, but with this shot he gets a total thumbs down. Looking at Ajay Devgn sipping out of a bowl that holds two goldfish, we yawn… so bored that we have nothing to say. Kareena looks like her plain old self. Nothing enthralling about the shot; the hairdo, the outfit and the pout, we've seen it all. Bebo is quite a style icon in real life, so we wonder why she didn't go a lil more quirky for Dabboo's 2014 calendar. Kareena's cousin Ranbir Kapoor is seen pulling a fire extinguisher while wearing a suit, and glaring at something. Ranboo, you have a large fan following and we're sure they, like us, expect more from you. Salman Khan looks like he is promoting his upcoming film Jai Ho, with nothing unusual on offer. And then there is the queen of fashion blunders, Vidya Balan. What was Vids thinking to sport a hideous outfit like this! Is that a beaded necklace covering her modesty, or has she borrowed some tribalwear? Whatever it is, if she thought it'd make her look tantalising, she needs to do a rethink…
This is what we think. Now you tell us who has impressed you and who failed to make your icon of the month list…