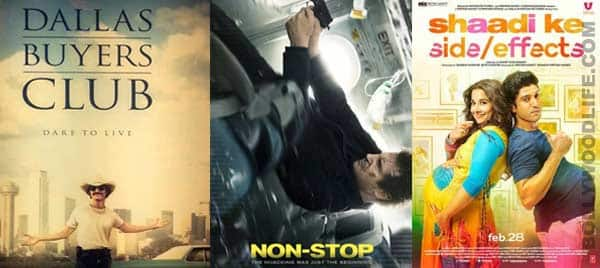 Apart from big Bollywood release there are some other interesting Hollywood and regional films that hit the theatres this Friday, here take a pick and decide which movie would you like to watch
Vidya Balan- Farhan Akhtar starrer Shaadi Ke Side Effects hits the theatres this Friday, apart from this film there are other treats for cinema lovers. Hollywood films Dallas Buyers Club, Non-Stop and Marathi film Anuradha too will release. Here's a sneak peek at these movies and a quick review that might just help you make your pick. Dallas Buyers Club: In Matthew McConaughey's Academy Award nominated role, he plays an electrician and rodeo cowboy with a devil-may-care lifestyle whose life is tossed upside down when he is diagnosed with HIV and given 30 days to live. Quickly realising that he won't get the medical care he needs in the US, he crosses the border into Mexico where he learns about alternative treatments and begins smuggling them into the US.
Ron (McConaughey) finds an unlikely ally in fellow AIDS patient Rayon (Jared Leto), a transsexual who shares Ron's lust for life and entrepreneurial spirit. They establish a 'buyers club', where people diagnosed with HIV pay monthly dues for access to the newly acquired supplies. Deep in the heart of Texas, Ron's pioneering underground collective beats loud and strong as he fights for dignity, education, and acceptance.
Cast – Matthew McConaughey, Jennifer Garner, Jared Leto
Director – Jean-Marc Vallée
Verdict – The film has achieved universal acclaim and it very well should. The plot line is brilliant only topped by the fantastic performances of its lead cast. McConaughey and Leto lead the charge already receiving several industry awards for their performances, not to mention, both being tapped to win the Oscar in their respective categories. This is a must watch.
IMDb – 8.0/10
Rotten Tomatoes – 94%
Release Date – February 28
Non-Stop: The film mostly takes place entirely on an international flight from New York to London. During the flight, US Marshal Bill Marks (Liam Neeson) receives a series of threatening text messages, stating that a passenger will be killed every 20 minutes unless $150 million is transferred into a bank account. When the bank account is discovered to be under Marks' name and a bomb is found aboard the plane, Marks is branded as a hijacker.
Cast – Liam Neeson, Julianne Moore, Nate Parker, Michelle Dockery, Linus Roache, Scoot McNairy, Corey Stoll
Director – Jaume Collet-Serra
Verdict – Liam Neeson back in a Taken like role, headlines this action thriller. The movie sounds like a well throughout conspiracy plot. The movie has gotten good reviews from the pre-screening, particularly for Neeson's performance. This one is a definite watch.
IMDb – 8.2/10
Rotten Tomatoes – No Reviews Yet
Release Date – February 28
Anuradha: The film revolves around Anuradha – a daughter, a mother, a wife, and a friend. Disha Choudhary's Anuradha is a touching story of a woman's fight against her family and the society.
Cast – Sachin Khedekar, Smita Jaykar, Manoj Joshi, Ganesh Acharya
Director – Raju Mavani
Verdict – The movie has a good flow, but in the end fails to produce a good entertaining film. I would give this one a miss.
IMDb – No Rating Yet
Rotten Tomatoes – No Reviews Yet
Release Date – February 28