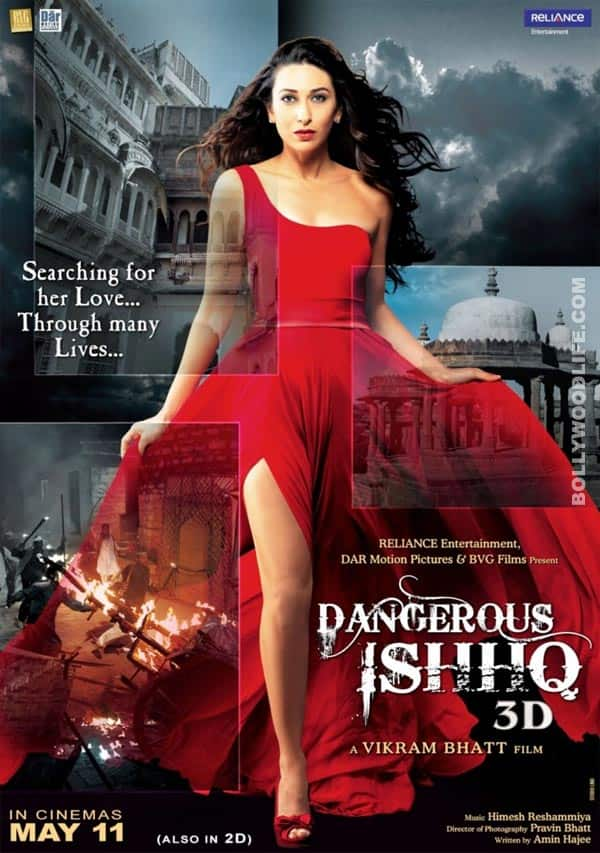 Click for pictures, videos, interviews, news and gossip related to Karisma Kapoor's comeback vehicle, Dangerous Ishhq 
Karisma Kapoor's 3D thriller film, directed by Vikram Bhatt is all set to release this Friday, May 11. Read on to know all the buzz around it.
STORY
Supermodel Sanjana (Karisma Kapoor) and Rohan (Rajniesh Duggal), son of one of the nation's foremost business tycoons have been one of the most popular couples in the social circuit. When Sanjana decides against flying to Paris at the last minute – for a lucrative modeling assignment, she does so, not just because she cannot bear to stay away from her boyfriend Rohan, but more importantly because her instincts push her against going. But what her instincts cannot do is stop Rohan from getting kidnapped. The high profile kidnapping creates chaos in Sanjana's life. The kidnappers demand Rs 50 crore. The Police however believe that even paying the ransom will not bring Rohan back. Time is of utmost essence. Death stares Rohan in the eye. It is in this extreme trauma that Sanjana discovers something extraordinary. She sees visions of them together- sometime in the past- in different eras.
She is confused initially but in her visions lay definitive clues that could lead her to save the love of her life. As she follows clue after clue she gets closer and sometimes further away from the love that has been eluding her through the ages.  An enticing suspense thriller, Dangerous Ishhq is Sanjana's tryst with destiny. Would she be able to unravel the past to save her future? Would she be able to rescue her love and expose his true captors?
REVIEWS
VIDEOS
PICTURES
NEWS & GOSSIP