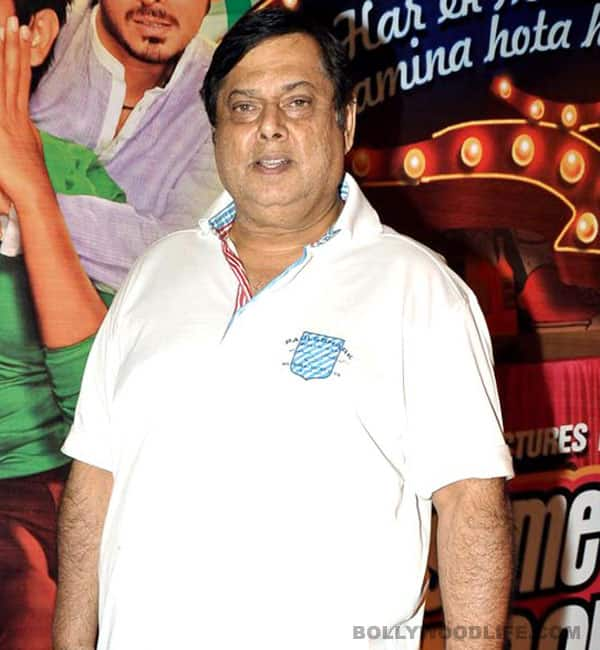 The 'No.1' filmmaker talks about his new-age comedy film, kids – Varun and Rohit, why the Judwaa remake didn't materialise, his fondness for Karan Johar and Govinda, remakes, sequels and much more!
David Dhawan's Chashme Baddoor (CB) opens this Friday, but he's as relaxed as ever. The filmmaker's funda is quite simple – If one film doesn't do well, there's always another one to look forward to, and that's the simple law of average! As promised, here's part 2 of the interview with the 'No.1' director. Excerpts:
You're known to work with only A-listers, unlike Karan Johar, who launched not one but three newcomers in Student Of The Year. Is this the Karan effect – you working with young actors in Chashme Baddoor?
Hats off to Karan! Kai Po Che! also had new actors. Naye actors ko chance dena chahiye. Someone has to do it, right? Rajshri's gave Salman Khan Maine Pyaar Kiya. After making movies all these years you feel there's nothing left to prove.
So aren't you bored of making only comedy films?
I am, but when you see CB you'll know I have done something different, even though it's a comedy. The film has a unique charm. And let me tell you I've made this film in a holiday, masti mood, but without compromising on the script.
Why didn't you cast Varun (Dhawan) in CB? There are rumours that he's doing a cameo in the film…
Varun was already busy working on his debut film. I'm directing a film for him this year produced by Ekta Kapoor and Rohit (Dhawan) will assist me on that. It's a South remake.
Any filmmaker you wish Varun to work with in his career?
Rajkumar Hirani. He's a brilliant filmmaker who perfectly blends comedy with emotion. Even Anurag Basu is very good. I hope Varun gets the opportunity to work with these people.
Does he ever discuss his projects with you or seeks your advice?
If he asks me, only then I give it. If you give it without asking, he says, 'I know what I am doing'. (Laughs) Yeh bhi hota hai! The new generation is different.
Will you direct the Chupke Chupke remake?
No. If at all I want to remake any film, I'll remake my own films. But then again, I feel apni hi film ka remake kiya toh kya kiya.
The remake of your musical blockbuster Aankhen is also happening…
Yes, producer Pahlaj Nihalani kuch kar rahe hai us film ka.
Why are you not making a sequel to your films?
It's not easy. Partner could have been a great sequel, but we couldn't finish the script and we were not happy with whatever work was done on the script. Later, Salman Khan also got busy. Even Judwaa could be a great sequel.
Yeah, but Sajid Khan said he couldn't take your brand of comedy (Judwaa) forward…
Obviously – It's not easy! Sajid spoke to me about it. Salman won't do it now because he wants to do different cinema. It's difficult to imagine the Judwaa remake without Salman.
Is there a sense of competition between you and your filmmaker son, Rohit?
No, because Rohit is doing films with different sensibilities and I'm doing films with my sensibilities. But he does help me a lot. He's a well-learned man.
If both Rohit's and your film get nominated for Best Film at an award ceremony then…
Then there's competition! (Smiles)
So disagreements happen between you and Rohit? Do you ever guide him if you think he's taking a wrong step?
On the contrary, he feels I'm wrong (Laughs).
Does it ever happen that you're halfway through a film, take for instance, Rascals and you realise that it's not going in the right direction?
Yes, kaafi baar hua hai and that's suicidal. As far as Rascals is concerned, I felt I picked the wrong script. And working on the wrong script with all your heart is like murde mein jaan daalne wali baat.
Any plans of working with a big star after CB?
Right now my focus is only on making a film with Varun.
Will it be a typical David Dhawan film?
Yes! Uske saath bhi toh ek banani chahiye na? (Laughs) It's full of comedy, action and drama.
What's the movie title?
Main Tera Hero
Why don't you make it Main Tera Hero No 1?
(Laughs) Nahi yaar… that's reserved only for Govinda!