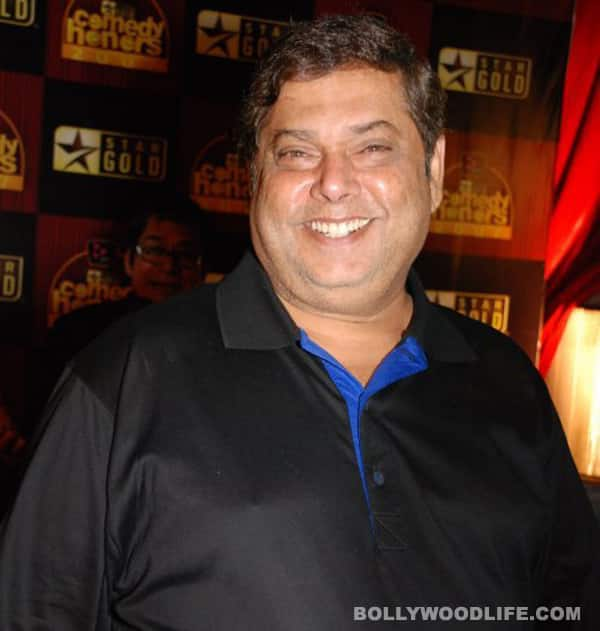 After a two-year sabbatical, the 'No.1' director David Dhawan is back with Chashme Baddoor. The veteran filmmaker talks about his attempt to recreate the original comic caper Chashme Buddoor that re-releases on the same day as the remake, and the controversy surrounding the film. He also chats about his sons Varun and Rohit Dhawan, his favourite stars Salman Khan and Govinda, the Rascals debacle and more…
David Dhawan's last film Rascals bombed badly at the box office. Has the 'Nizam of nonsense' reached the end of his career, asked everyone. To make matters worse, Dhawan himself declared that he shouldn't have made the film. If that wasn't enough, the media ruthlessly trashed his work, saying his jokes no longer evoked the laughter they did a few years ago. Perhaps the signs were lit up then – his films with favourites Govinda, Salman Khan and Sanjay Dutt didn't set the cash registers ringing. And since DD himself admitted some time ago that he needed to reinvent his style of filmmaking, he is set to prove himself all over again with his 'old wine in a new bottle' formula – the remake of Chashme Buddoor (CB). We had a free-wheeling chat-a-thon with the funny man…
Why a Chashme Baddoor remake?
I was in two minds actually, considering that it's a 30-year-old film. But when the production house Viacom 18 Motion Pictures asked me if I'd be interested to direct it since they have bought the official rights of the original film, I agreed. I feel the original Chashme Buddoor has a unique charm. It's not that I've made Don or any other classic. Chashme Baddoor is a small film. The film doesn't have successful and established stars. When you have a big star, you can just incorporate four dumdaar scenes, good songs, one item number, good action scenes and that's it … picture nikal jaati hai. Also, today's energy and pace is different. I've made Chashme Baddoor in a holiday, masti mood, but without compromising on the script.
Your brand of comedy is different. Was it difficult to adapt to today's style?
I agree, but it wasn't difficult, because I go with my instinct and we keep rehearsing and improvising scenes on the sets. If you don't change, the public will change you.
Sai Paranjpye is unhappy with the CB remake – she feels you will not be able to do justice to her classic…
I'm surprised she never told me that, considering we know each other very well. I haven't robbed anybody's script. Viacom 18 has bought the official remake rights of the original film. I have just directed the film.
Rakesh Bedi, who was part of Chashme Buddoor recently said in an interview that while directors call their remakes a 'tribute', he feels that they lack original content. Comment.

Rakesh is a very dear friend. I'm sure he must have said that! Writing an original script is a lengthy procedure. I know I can do full justice to my own films if I think of remaking them… blockbusters like Raja Babu, Shola Aur Shabnam or Aankhen. There are so many remakes being made of late, take for example Salman's Wanted, Ready, Bodyguard… even Rowdy Rathore is a South remake, frame by frame. We remake their films, they remake ours. We are very influenced by the West. You cannot chaapo the film as it is. You have to rewrite it and add new things.
Who do you think can be another Govinda or Salman from today's generation?
I doubt if there can be another Salman or Govinda. The benchmark they have set is too high. Ek sadi mein ek Govinda aur ek Salman aate hain.
Why don't you make a new film with Chi Chi?
Not now, because he's busy and I'm also busy with Varun and Rohit… I need to focus on them too.
Varun is considered one of B-town's youngest and popular heartthrobs and has lot of potential as an actor. Do you think he can be the next Salman Khan?
That he has to prove…
Is there a sense of competition between you and Rohit?
No, because Rohit is doing films with different sensibilities and I'm doing films with my sensibilities. But he does help me a lot. He's a well-learned man.
Any 'number 1' films from you?
It's just a title. Had we not selected the title Chashme Baddoor, there wouldn't be so much discussion on it (laughs). The original film is re-releasing on the same day, but before you ask me, let me tell you, I'm not worried. I wish both the films do well at the box office.
Were you disheartened with the Rascals debacle?
Not really, yaar. I wasn't disappointed. Ajay Devgn and Sanjay Dutt's roles were meant for young actors – that's where I made a mistake. Bahot mehnat se banayi picture lekin.
Watch this space for David Dhawan interview – Part 2!